If you regularly like to do some gardening, having a good set of pruning shears is a must.
Although you might only think of pruning shears when you need to prune trees, there are various types of them that can benefit you in your gardening hobby.
How do you choose the right set of pruning shears?
It's important to consider a variety of factors, such as how thick the branches of the tree or bush are that require cutting.
There are two main types of pruning shears: anvil and bypass shears.
To put it briefly, anvil pruning shears have a straight blade that closes on a flat edge, while bypass shears have two curved blades that work like a pair of scissors.
With that in mind, let's look at the best pruning shears for your garden and how to choose them.
Best Pruning Shear Overall: gonicc 8″ Professional Premium Titanium Bypass Pruning Shears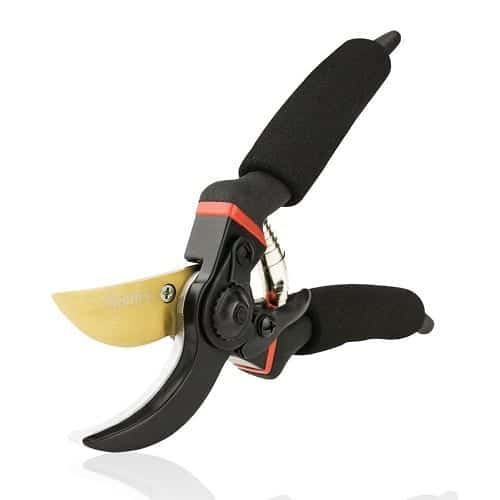 This highly-rated set of garden shears will get the job done in your garden and last you a very long time.
Here's why it has made the top spot in our pruning shears product reviews.
Benefits
These shears have blades that are made with premium titanium steel. This makes them highly durable no matter how often you have to use them.
The shears are ergonomically designed. This is important in a garden tool such as pruning shears because you might have to use them a lot and you don't want to get sore hands and fingers.
Not only ergonomic, but the handles of these pruning shears are also of the non-slip variety so it feels very comfortable to use them.
This product has what's interestingly known as a sap groove design. Do you know how sometimes when you're using pruning shears to cut branches, they start to stick? This design prevents that from happening because it channels off the sap.
Extra Features
These shears are both lights to use while being versatile for various types of pruning – you can use them on smaller jobs or thicker branches, so you won't have to go out and purchase another set of pruning shears any time soon.
Drawbacks
Although these pruning shears do have a locking mechanism, some users have reported that it's not as easy to use as it sometimes moves out of place even though its spring is strong.
Buying Guide
These best pruning shears cost under $25.
They're cost-effective bypass pruning shears that work well for many of your pruning needs in the garden, and because of how they're so easy to use they can be comfortably used by both gardening beginners and pros alike.
Runner-Up: Berger Tools Berger Bypass #1114 Pruning Shear with Angled Cutting Head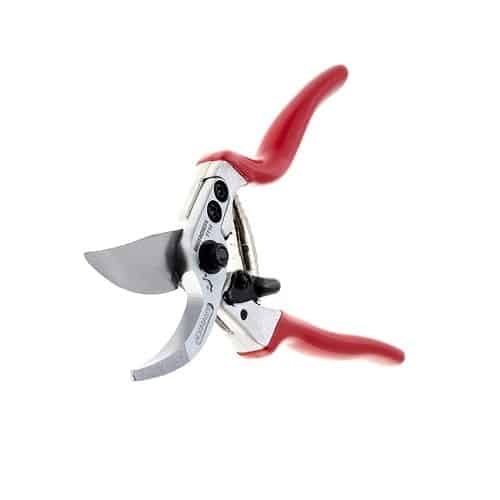 These red pruning shears are stylish and compact. Let's dive into their benefits!
Benefits
While they have a deep sap groove to prevent sticky cuts, as is the case with the previous product, they also have an oil groove. This allows you to lubricate the shears without having to take them apart, which makes taking care of them a lot easier.
Your comfort is increased when you use these pruning shears, thanks to their angled cutting head. This means that you can cut branches and stems while keeping your wrist in a straight position, thus preventing wrist injuries.
These pruning shears are durable and well made, thanks to their hardened steel blade that has a wire-cutting notch.
Extra Features
Although strong because it's made of forged aluminum, the shear's body is light to hold and use.
The cutting blade and counter blade are exchangeable.
Drawbacks
Some users have reported that the shears are probably best for stronger, larger hands as their spring sometimes sticks. If you have smaller hands and not a strong grip, this might not be comfortable for you to use. Another product on our list of pruning shears will be better for you.
Buying Guide
These Berger best hand pruners cost under $45, so they are a bit more expensive than the gonicc model, but they do have some extra features that could benefit you when you do your gardening.
Alternatives: FELCO Model 4 Cut and Hold Roses and Flowers Pruning Shear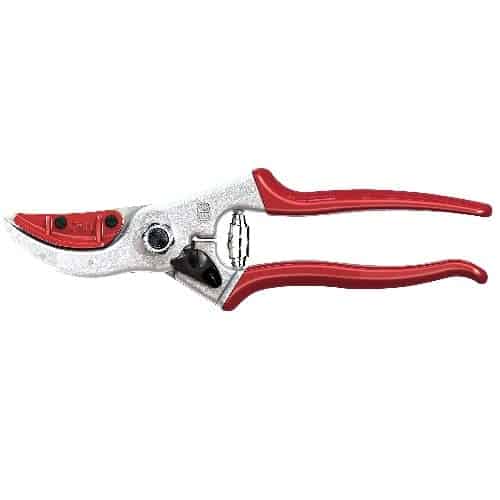 Felco is a popular and reliable brand when it comes to secateurs and they have a large range of pruning shears to offer.
Their Model 4 is right up there with the best of them as it has some nice advantages, especially if you need something that can cut through thicker, harder branches.
Benefits
The best garden shears have powerful leverage, and that's what you'll find in these. What that means that you can cut wood that's up to 25mm in thickness without struggling under the force, which can speed up your task.
While being tough enough to handle bigger jobs in the garden, these pruning shears are also great for lighter pruning work, making them a versatile tool to have in your gardening bag.
These pruning shears are versatile because they have both a blade and riveted counter blade that are made with high-quality steel.
These shears are specially made for people who have large hands, offering a more comfortable pruning experience. So, if you have large hands and battle to find comfortable pruning shears, then these are the ones you need.
Extra Features
These hand pruning shears are known for being easy to use but they are also made well to last you a long time. This is thanks to their rugged yet light handles that are made out of forged aluminum.
The shear's parts can be replaced, which makes owning these shears even more appealing because it increases their lifespan.
Drawbacks
With all its great features, it's a bit of a disadvantage than the Felco 4 is meant for people with larger hands. If you have smaller hands, you'll have to choose a different model from the Felco range – their number 6 model is more suitable, but it is quite a bit more expensive than the Felco 4.
Buying Guide
These stylish red-and-silver garden clippers cost under $35 on Amazon.
That's really value for money if you think of how they will ensure greater usability and comfort during the sometimes difficult pruning process.
Alternative 2: WilFiks Garden Pruning Shears – 8″ Heavy Duty Bypass Hand Pruner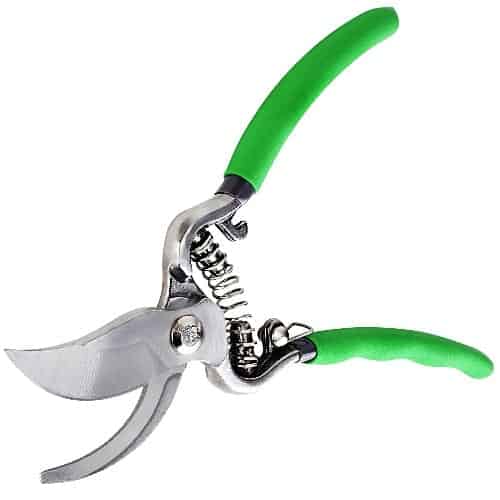 This is another alternative tool to consider.
At first glance, it looks quite different from the others that have already been featured in this buying guide, thanks to the large spring that's found between the blades and the shear's bright green design.
Benefits
These shears have razor-sharp carbon steel blades that can cut through a variety of plants, flowers, and tree branches.
The addition of the spring in these shears means that when you use them, the shears have a responsive but comfortable bounce. This makes cutting feel more natural and it has protective benefits for your wrists too.
Tired of getting calluses from gardening tasks? These pruning shears were made for you. They've got non-slip soft-grip handles that are designed to give you the most comfortable usage.
Extra Features
These shears are highly versatile because they can be used by people with large, medium, and small hands, making them perfect for use by various members of the family, including kids. This is a bonus because it means you don't have to purchase more than one set of pruning shears.
You spend a lot of time gardening but you don't want to spend time cleaning your tools. With these shears, you don't have to do much to keep them in great condition. This is thanks to their durable blades and rubberized grip that make cleaning a no-fuss task.
Drawbacks
Some users have reported that the grip of these shears isn't as great as it could be, but that might vary from one person to the next. Still, it's worth bearing in mind.
Buying Guide
These WilFiks garden pruning shears cost just over $30.
They're quite budget-friendly while having nice perks, such as ergonomic design and durable construction.
Best For The Money: Fiskars 91095935J Steel Bypass Pruning Shears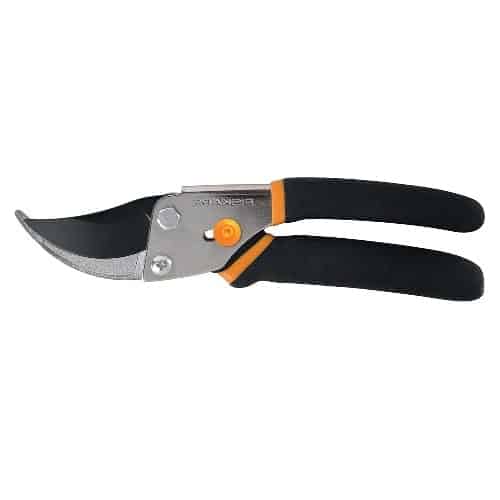 If you don't want to spend much money on a new set of pruning shears, you can find ones that are well-made and effective without burning a hole in your pocket.
The Fiskars bypass pruning shears are ones worth checking out.
Benefits
These shears have a blade that's made of precision-ground steel which always stays sharp, making them really easy to maintain in great condition.
The blade has a low-friction coating. What this means is that it can cut through wood without gumming up or sticking.
Extra Features
They have an easy-open lock feature that protects the blade when not in use, which means they're much easier to maintain in the long run.
Drawbacks
Some users have reported that these pruning shears are not effective for cutting through the diameter for which they're said to be good, which is 5/8th of an inch. This is because they're not sharp or strong enough, so it's probably best to use these for light pruning tasks around the garden instead of heavier tasks.
Buying Guide
These Fiskars pruning shears cost under $15.
Although they're not that strong and durable, for the price you pay for them they will get light pruning done with ease.
If that's the extent of what you need, then you will be more than satisfied by purchasing them.
Pruning Shears FAQ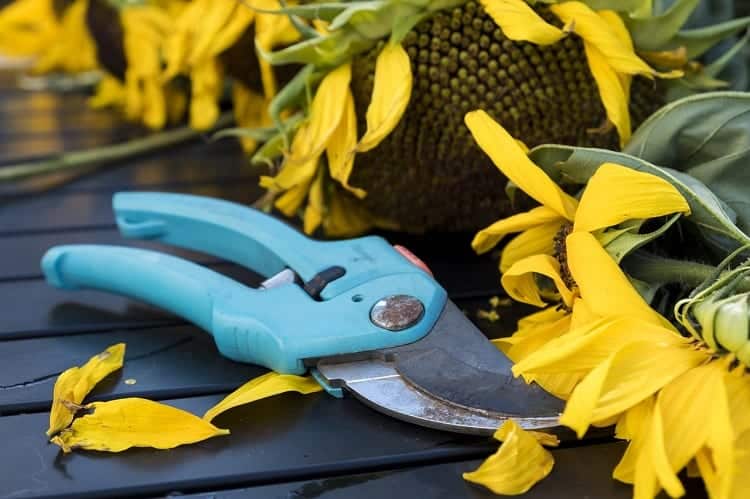 Now that we've looked at the five best pruning shears for your garden, let's take a look at some common questions about pruning shears that can help you choose the right ones for your gardening requirements – and ensure that you prune correctly.
How to Use Pruning Shears the Right Way?
Using pruning shears the correct way will make the pruning session much more comfortable and easier to do. Here's a few tips:
– Hold the piece of branch that you want to cut between the fingers of one hand. With the hand holding the pruning shears, you should snip the branch so that it makes a clean cut.
– Use the handles of the shears to push them tight so that you can cut through the branch.
– When cutting, make sure you use the correct angle. If you have a plant that's opposite-branching, meaning that its side branches grow in opposite directions, cut across the stem above the node. If it's alternate-branching, meaning that the tree or bush's side branches are staggered and vary throughout the branch, cut on an angle sloping away from the single bud at the node.
Can I Use Scissors to Prune?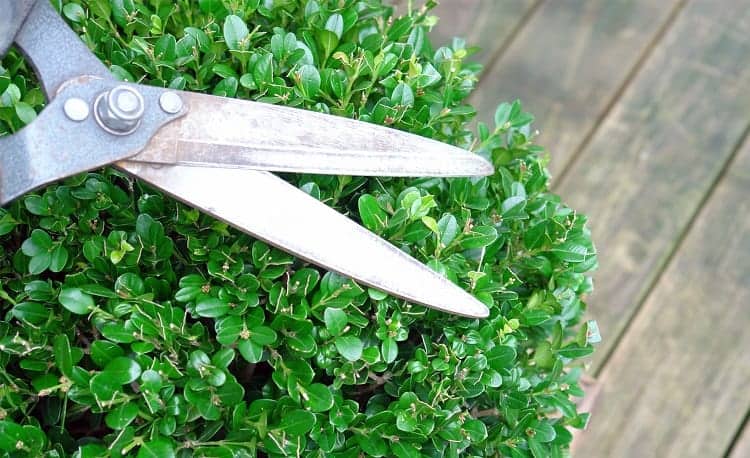 While you might be able to use scissors to cut through stems and light branches, provided they are very sharp, using them won't be as comfortable or effective as using pruning shears that have been designed to cut through wood.
In addition, using scissors to prune your bushes and trees can cause them to get stuck or become damaged.
This is because scissors don't have features such as embedded springs and sap grooves to prevent them from getting stuck during the cutting process.
What is the Difference Between Pruners and Secateurs?
The two terms – "pruners" and "secateurs" – are often used interchangeably because they refer to the same gardening tool.
You will hear one term used instead of the other depending on where in the world you live.
What is the Purpose of Pruning?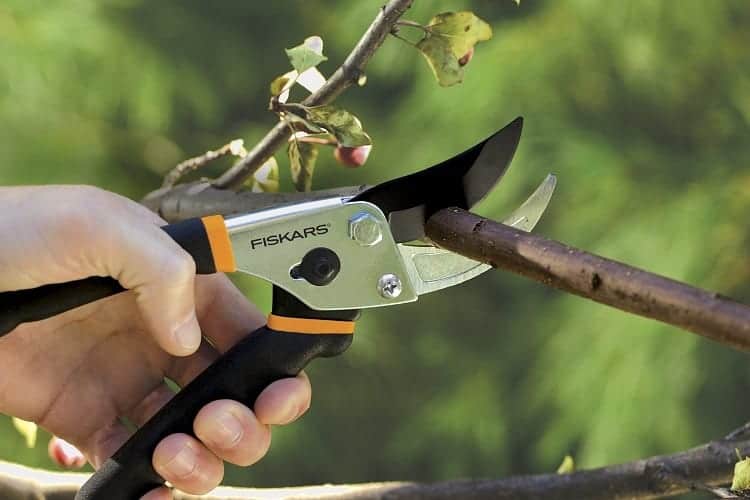 Although you might think pruning plants and trees just ensures that they can grow without diseased, dead leaves and stems, there are many other benefits to pruning. When you remove dead or damaged branches from trees, you can prevent dangerous situations from occurring, such as heavy branches falling down and damaging your property or hurting someone. Cutting away certain branches and thinning out also ensures that the trees can grow in the way you want them to, and this can be used to prevent them from growing over your roof or wall.
When Should I Start Pruning?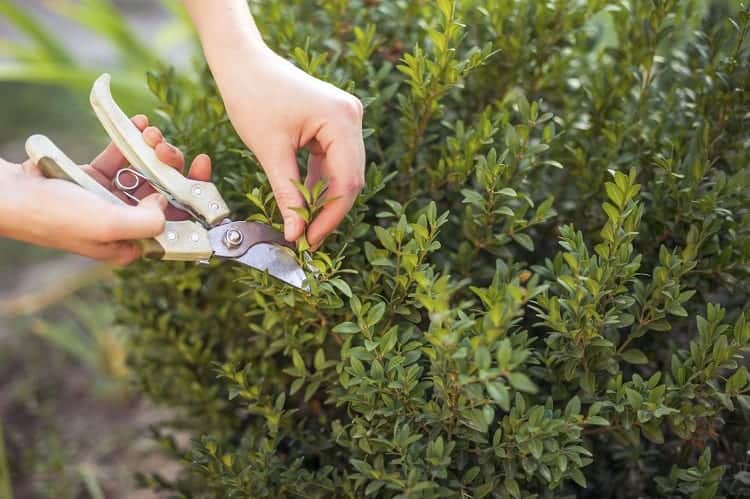 It's in your plants' best interest to remove dead or damaged stems from them as you see them arise.
This will prevent diseases and insects from attacking your plants, as Better Homes & Gardens reports.
Here's a general guideline courtesy of The Spruce:
-If you have flowering trees, vines, and shrubs, you should prune them in early spring or late winter.
-If you have fruit trees, you should only prune them once the plants are dormant.
-If you have evergreen plants and trees, you should prune them in spring, or not at all. Many people leave their evergreen trees alone, but if you want to prune them so that they can become fuller, then you should only prune them minimally.
-If you have perennials, prune them in spring or fall.
Conclusion
If you're a serious gardener or just starting a gardening hobby, you'll need to purchase the best pruners.
These are some of the most important essentials you'll need, but it's important to get the right ones.
Ideally, the best pruning shears should be comfortable to use, especially if you want to use them for long periods of time, well built so that you don't have to replace them in a hurry, and have the strength you need depending on what your pruning tasks are.
For that, it's a must to check what diameter of wood they can cut through so that you know if you can use them for many pruning tasks or stick to gentle trimming instead.
In this article, we've looked at five of the best garden clippers in our pruning shears review.
They'll ensure that you get the quality you pay for while ensuring your gardening activities can proceed without a hitch or hassle.
---
Last Updated on August 12, 2022 by Gustaf Johansson