A broadcast spreader is a farm implement that's used to spread seed, fertilizer, or other materials.
It can be used by you to increase the health and beauty of your garden.
How does a broadcast spreader work?
You push, carry, or attach a broadcast spreader to your tractor so it releases the product into your lawn in an overlapping pattern.
It covers more ground much faster than applying it by hand, whether you're applying fertilizer or planting seeds.
If you want to get a spreader for your lawn, you might wonder what type of broadcast spreader is best for you.
Here's the lowdown with the best broadcast spreader: a must-have tool for your garden.
Now that we've looked at the specs of the most popular and highly-rated broadcast spreaders, let's take a closer look at their features in detail, starting with the best push spreader on the market to make dropping seeds or fertilizer into your lawn a much easier process.
Best Broadcast Spreader For 2019
Best Push Spreader: Agri-Fab 45-0462 Push Broadcast Spreader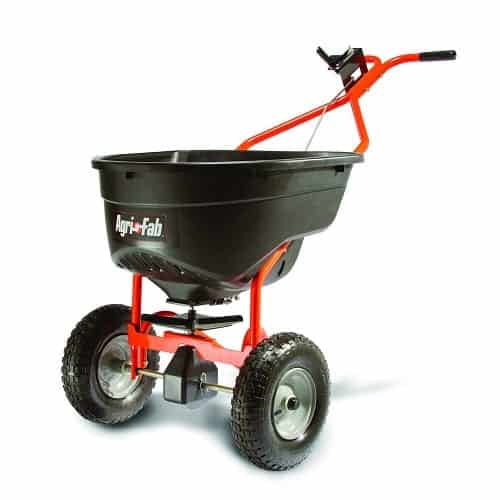 Since you're pushing this spreader along, you want it to feel comfortable and allow you to work effectively in your garden – and it doesn't disappoint.
Here's why it's the best fertilizer spreader that you can find on the market.
Benefits
This broadcast spreader has a steel rod flow control that makes it easy to open or close during the spreading process.
It can cover 25,000 square feet.
It also has an enclosed gearbox that protects heat-treated bevel gears so that they don't spread dirt or disrupt the spreading process. This is important to prevent a messy job.
The wheels of this spreader are quite large, coming in at 13 inches by 4 inches. This makes using them much easier and they make the spreading process smoother.
Extra Features
This spreader is made to last, with users being impressed by its frame coating and painted surfaces that make use of powder-coated thick steel. These all make it strong and increase its longevity, which is important because a spreader isn't something you want to have to replace, especially if you've invested a bit of money into it.
Drawbacks
If you're not sure how to assemble this broadcast spreader, this can prove problematic because this spreading unit does have to be fully assembled. You will need various tools to get the job done, as well as remove the gearbox in order to apply grease to it, as some users have reported.
Buying Guide
This best broadcast spreader costs under $170.
If you can look past how you need a bunch of tools to assemble it, perhaps because you're quite a handy person, you'll be pleased with its many features.
---
Best Chest Mount Broadcast Spreader Winner: Solo Inc. Solo 421 Portable Chest-mount Spreader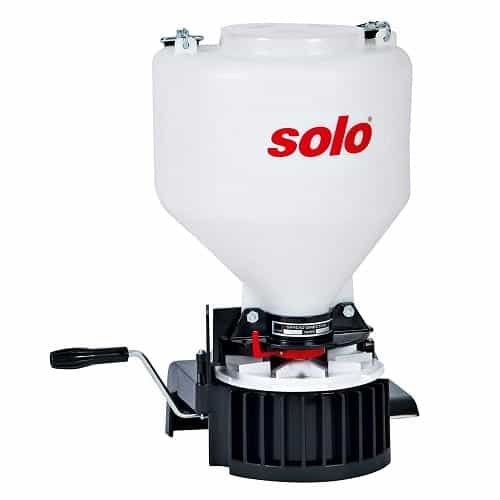 This is a small fertilizer spreader that you use by wearing across your back and over your shoulder.
This makes the spreading process a lot easier and makes it simpler for beginners to use.
Let's take a look at why this works so well, and who it's right for.
Benefits
While holding the lawn fertilizer spreader close to you might make you worry about chemicals getting too close to your face, the product's hopper has 20 pounds of capacity and a lid so that chemicals and dust remain isolated.
The gearbox-driven agitator is not only fully enclosed by also resistant to damage and corrosion.
The entire product is built to be durable, thanks to its stainless-steel and rugged polyethylene construction. These work to prevent problems such as clogging during the spreading process and they also prevent rust.
It's got fingertip levers that make controlling volume and direction much easier during use so you don't have to spend time fiddling with different levers during the spreading process.
You don't have to worry about the spreader moving out of place because the chest mount has a snug, comfortable fit.
Extra Features
It's highly versatile – the spreader can work with particles as large as rock salt and as fine as sand.
Drawbacks
Although this product is built with versatility and convenience in mind, users have reported that the lever which dispenses the product can be difficult to find during use.
In addition, some parts are made of plastic which can break easily and reduce the spreader's lifespan.
Buying Guide
This fertilizer spreader costs under $80.
It's much cheaper than the previous product in this guide of lawn spreader reviews and has some important features that you'll be able to make use of without burning a hole in your wallet.
With its convenient features, it's also great for beginners who've never used a spreader before because you just walk around the garden while using it and don't have to battle with the installation.
Best Walk Behind Spreader Winner: Earthway 2600APlus Walk-Behind Broadcast Spreader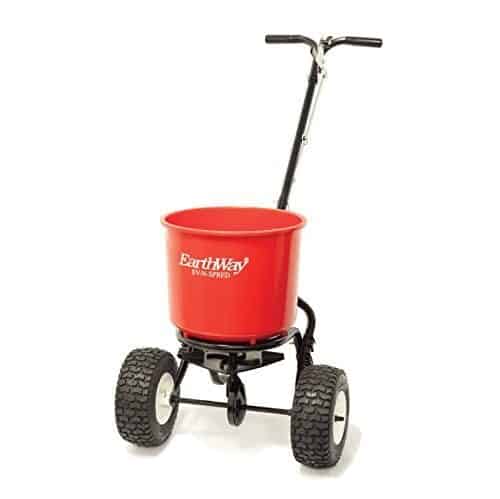 If you want greater accuracy when using a spreader on your lawn, this is the one that you'll fall in love with.
Benefits
You're guaranteed an even spread with this walk-behind broadcast spreader, thanks to its three-hole drop shut-off system, as it's described by the manufacturer. This not only gives you an even spread but it also gives you a feathered spreading edge so that you can apply the seeds or fertilizer much more accurately wherever you want it.
The spreader has an epoxy powder-coated "diamond" chassis and a T-bar handle for the highest level of durability. It also has a rust-proof hopper.
It has a wide frame and wide-set tires so that you can achieve a more even weight distribution. This prevents it from bumping around the lawn and maintains an even distribution of your product too.
Extra Features
It has strong tires that can work on uneven terrain or even inclines, so if you have rough terrain in your garden then this product will help you to achieve seamless spreading.
Drawbacks
Some users have reported that the instructions for this product were not available with the product, which made assembling it quite difficult. However, there are online resources that will help you to assemble the spreader. Knowing about them before you purchase the product can help you make assembling it a much easier process.
Buying Guide
This spreader costs under $140.
It's got important features that show attention to detail and definitely make using it much easier for pros and beginners alike.
Best Tow-Behind Spreader Winner: Chapin International 8620B Tow Behind Spreader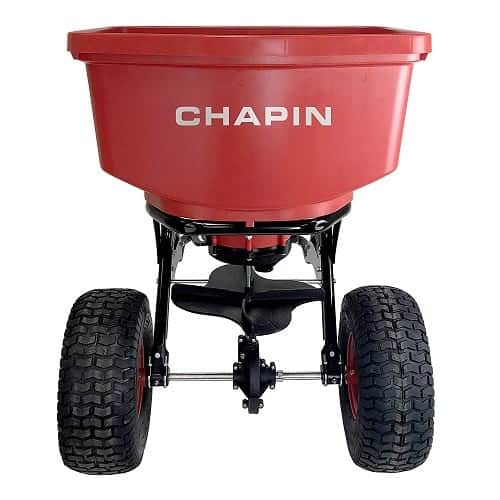 In case you didn't know, a tow-behind spreader is attached to a rider or tractor so that you can drive around your lawn while infusing it with fertilizer or seeds that it needs.
This product by Chapin is a heavy-duty spreader that's been manufactured for professional use, but you could use it if you have a large garden.
Here are some of its most important benefits.
Benefits
If you have to stop during the spreading process, you can do this quickly with the spreader's auto-stop dual impeller. The dual-impeller design that lets your product get released when the spreader is in motion, and not when it comes to a stop. This prevents your product from being wasted.
One of the best things about this spreader is that you don't have to worry about trying to reach for controls and levers to prevent your seeds from falling off the impeller.
Extra Features
You can adjust the settings when it comes to how you apply your product. In fact, there are 11 settings to make the application much more accurate, which is a nice touch.
Drawbacks
Some users have reported that the spreader isn't easy to assemble and the manufacturer's instructions are unsatisfactory.
Buying Guide
You can purchase this commercial fertilizer spreader for under $210.
Since it's a tow-behind spreader, this enables you to cover a large area, but if you have a smaller amount of lawn then this probably isn't right for you and you could do well with a cheaper yet just as effective product.
Runner-Up: Brinly BS36BH Tow-Behind Broadcast Spreader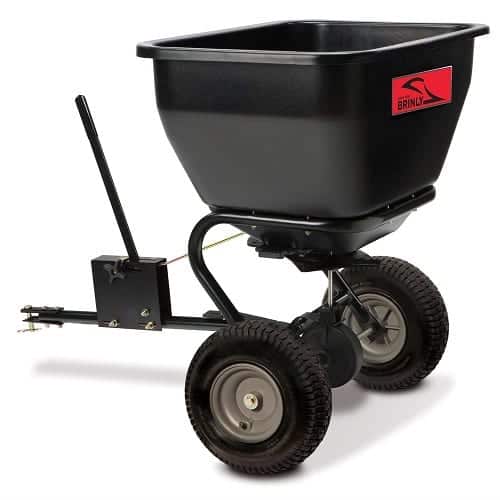 This is another good tow behind spreader to check out if you have a large yard.
In fact, it's most suitable for a yard that's larger than an acre. Let's jump into all its features.
Benefits
Its hopper can hold 175 lbs, so you don't have to worry about running out of materials when you're busy using it.
This spreader is built to last you a long time. It has a heavy polyethylene hopper that's made of stainless steel, and glass-filled nylon gears that are fixed into a nylon gearbox to give them even more protection. All of these features help to make the spreader much more resistant to damage from the elements as well as corrosive fertilizers.
You can control how the product spreads, which is important because different products will spread differently. By being able to control the pattern of spread, you can choose an accurate and even distribution all over your lawn.
It's really easy to use because it comes with a single pin known as a universal Hitch Pin. This makes it highly versatile and capable of being attached to any tractor or rider, as well as most ZTR or ATVs.
Extra Features
It comes with a hopper cover for extra security and protection. This cover has an easy elastic on/off the structure to keep dust and chemicals away from you.
Drawbacks
Some users have reported that the spreader's flat bottom causes a lot of fertilizer to remain inside it.
Buying Guide
This tow behind spreader is much cheaper than the previously-mentioned product, coming in at under $220.
It's a professional and easy to use a product that's suitable for larger lawns.
Fertilizer Spreader FAQ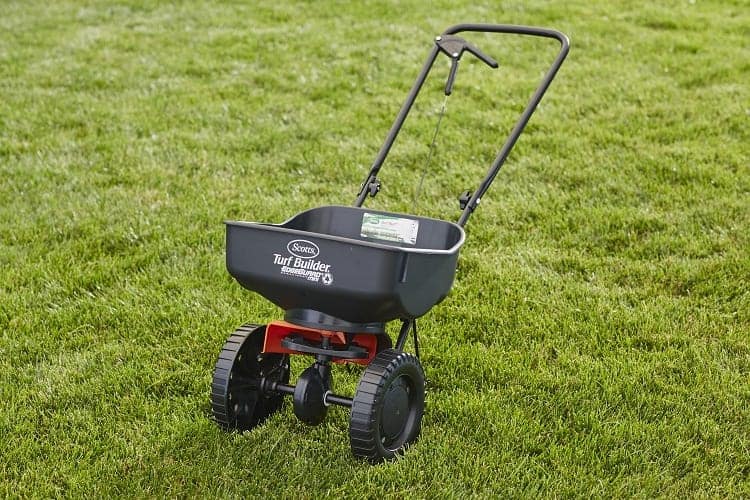 Now that we've looked at some of the best fertilizer spreaders on the market by featuring five products in our fertilizer spreader reviews, let's answer some questions about fertilizers and how they work so that you can take your lawn from average to amazing.
How do you spread grass seed with hand spreader?
You hold a trigger grip with one hand and then use your other hand to turn a handle so that the seeds will be released onto your lawn. There's also a lever that enables you to choose how much product you want to get emitted by the spreader. A hand spreader is very easy for anyone to use, and to make it even easier you'll find that some hand spreaders on the market are battery-operated so you don't have to turn their handles to release the grass seeds from them. Hand spreaders have some great features: they're light to carry and easy to use while being relatively inexpensive. If you have a small garden, then they make the most sense to purchase because they're so simple.
How to apply a lawn fertilizer?
Of course, applying the fertilizer by hand can be done – you just need to wear gloves to protect your hands and slowly walk back across your lawn while throwing handfuls of fertilizer in a sweeping motion. This will get the job done, but it won't guarantee you of an even distribution. If you're using a liquid fertilizer instead of a dry one, this can prove even more difficult to apply evenly on your lawn because you need a handheld hose-end applicator. These sprayers need to be refilled if you're using them on a larger lawn, which will mean you have to keep stopping during the process in order to get enough of the product you need.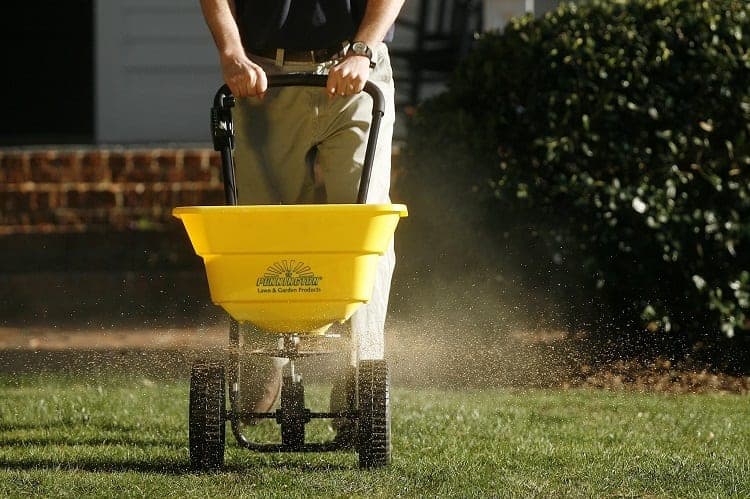 Which is better drop spreader or broadcast spreader?
A drop spreader is more accurate than a broadcast spreader because it drops the fertilizer between its wheels. This means that you can control exactly where the fertilizer will fall onto your lawn, and it's great for targeting specific areas that need work. On the other hand, a broadcast spreader releases fertilizer along the front and sides of it. The fertilizer is released in the form of an arc, which ensures much more even application while also covering a larger area. Broadcast spreaders are also faster than drop spreaders, so if you want to get your lawn fertilized quicker and you're dealing with a large area of lawn, then they're a good option for you.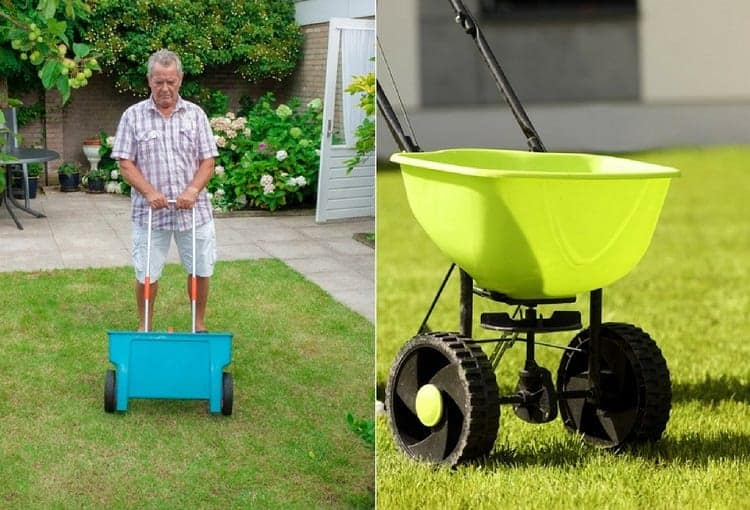 Can you use a fertilizer spreader to spread grass seed?
If you apply fertilizer and seeds simultaneously on your lawn it can result in uneven distribution of the products. There might be more fertilizer in some places or more seed in others. And, putting too much fertilizer can actually burn seedlings, as SF Gate reports. This can result in you wasting your products and not getting the lawn that you want. Therefore, it's a much better idea to spread your fertilizer on your lawn just before you plant your seeds so that the lawn will have the nutrients it requires in order to start growing in a healthier way.
Conclusion
If you have a lawn that you want to improve, getting the right broadcast spreader can help you to treat it with fertilizer and seeds.
In this article, we've featured five of the best spreaders – whether for use as a seed spreader or fertilizer spreader – that you can find on the market, from broadcast push spreaders to spreaders that mount onto your chest.
When you need to apply fertilizer or seeds to your lawn, doing so by hand isn't always easy or successful because it prevents you from getting an even distribution.
That's why a spreader is so important to use.
While the products we've featured are strong and built to last, they also don't have to make you spend a lot of money, although we've covered some professional products that can be a valuable investment if you own a larger piece of land.
We've also looked at some commonly asked questions about spreaders and how they work so that you can choose the right product for your lawn size and requirements.
---
Last Updated on August 27, 2022 by Gustaf Johansson