Sometimes mowing your yard can feel like a stressful task, especially on a hot day when you really don't want to be out in the sun.
That's why an electric lawn mower can help you to work faster and more effectively so that you can move on with the rest of your day.
What are the advantages of electric lawn mowers?
They are really quiet, operating at around 75 decibels, which is the same level of sound as a conversation. In addition, they don't release pollutants, which makes them better for your health as well as that of the environment.
And, if you're hoping to save some money, investing in an electric lawn mower can help you to cut down costs because you don't need to purchase gas to operate them, and you don't have to worry about maintaining them when it comes to their filters, spark plugs, and other parts.
But which one should you choose?
Now that we've looked at the specs of some of the best electric lawn mowers that you can find on the market, let's take a deeper look at their features, starting with the best overall winner.
Best Electric Lawn Mower For 2019
Best Overall Winner: Greenworks 16-Inch 10 Amp Corded Electric Lawn Mower 25142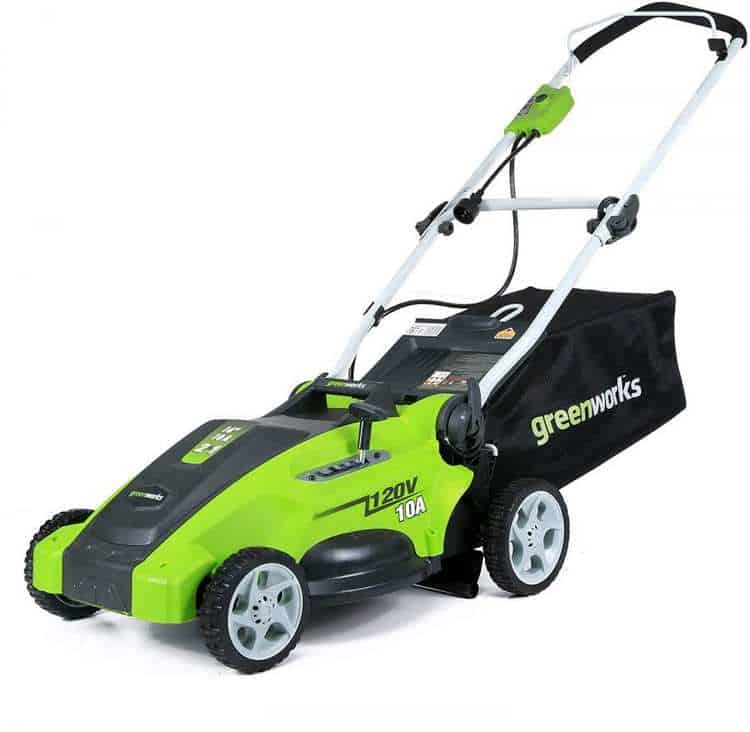 This stylish green and black electric lawn mower has four-and-a-half stars on Amazon, and with good reason. It has many benefits, without being too costly to purchase.
One of the best features it has is that it's lightweight, making it really easy to operate. But let's look at its other features and specs in greater detail.
Benefits
This lawnmower has a 10-amp electric motor that is strong enough to cut through the toughest grass without a hassle.
One of the best features about this lawn mower is that it can be adjusted to cut different grass heights. There are actually five position height adjustments that can be made. You can cut grass with a height of 5/8-inch to 2 5/8 inches.
It has a 16-inch cutting deck that works to make mowing go faster for you, no matter the size of your yard.
It also comes with mulching and rear discharge capabilities, which makes the task of mowing much easier.
One of the best features about this lawn mower is that it has wheels suitable for all terrain.
Extra Features
It can be used with an extension cord that's up to 150 feet in length, giving you a lot of room in which to work, so it's great for larger yards as well as smaller ones.
It's got a convenient push-to-start button so you don't have to waste time starting it up as you would with other lawn mowers.
In addition to its quick-start mechanism, this lawn mower has a plug-and-go mower that doesn't require any charging or batteries.
Drawbacks
Users have claimed the lawn mower's bag doesn't seal tightly enough as compared to other mowers. This causes light leaves to get released out of the top of the catcher.

Buying Guide
This best amp corded electric lawn mower costs $147.00. But with all its excellent features, it should last you a really long time and make your chore of mowing the lawn much easier.
Runner Up: Sun Joe MJ401C-PRO 14-Inch 28-Volt Cordless Push Lawn Mower, w/Rear Discharge Chute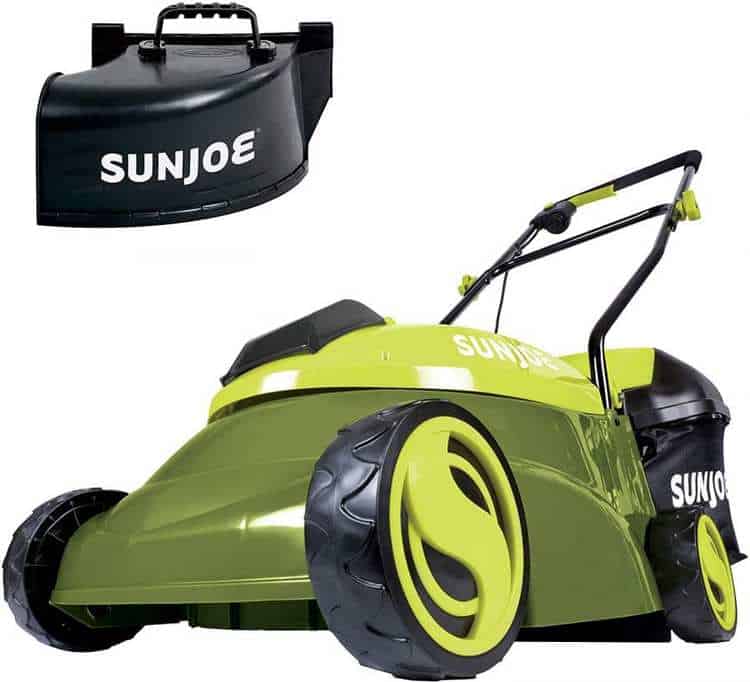 This is a lawn mower that's meant for small and medium lawns. It's the pro version of the Sun Joe lawn mowers, giving you more features than the previous models.
Let's look at why it makes our list as the best type of electric lawn mower.
Benefits
It's got a battery-powered durable steel blade. This has the capacity to cut 14-inch wide paths when mowing the yard, and you won't have to go over it again because it gives you a nice, clean cut the first time around.
The battery lasts a long time. It's a 28 V 4 Ah rechargeable lithium-ion battery that gives you power so you can mow a quarter acre continuously before having to recharge it.
You can change the height at which you cut. It's got three to choose from for the most comfortable mowing.
Extra Features
It comes with a detachable grass catcher so that you can dispose of grass cuttings much easier. This catcher also has a high capacity – it can hold up to 10.6 gallons of trimmings!
The pro version comes with a rear discharge chute included.
It's really light, weighing only 23.1 pounds, making it the ultimate convenience.
Drawbacks
Some users have commented that although the lawn mower is built with convenience in mind, it's disappointing that its battery requires a charging time of approximately three to four hours.
While that isn't necessarily a big deal, it does mean that you'll have to plan ahead before mowing your lawn – or else wait a few hours before you can finish the job.
Buying Guide
This Sun Joe lawn mower is $178.00. Although quite a bit more expensive than the GreenWorks mower featured earlier, it does have some great features that make it the best cordless lawn mower out there.
Alternative: Snapper XD 82V MAX Electric Cordless 21-Inch Self-Propelled Lawnmower Kit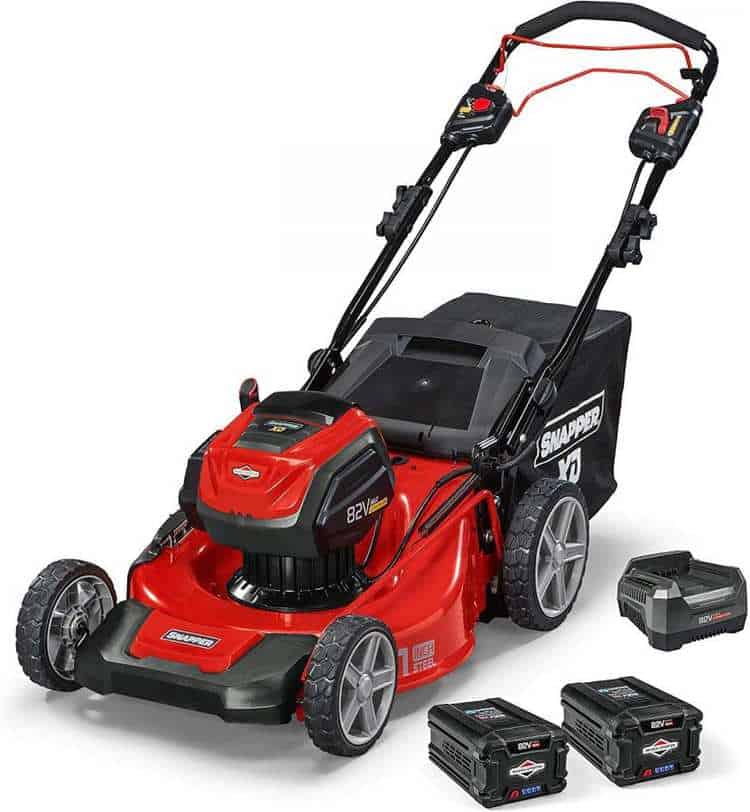 This is another product that's a battery powered lawn mower.
Its striking red and black design is instantly appealing, but it has lots of other features worth considering if you're looking for a new lawn mower.
Benefits
It's the best battery powered lawn mower because you get 45 minutes of mowing time with its lithium battery. For small lawns, that's more than enough time.
You also get a battery kit included in your purchase: a Briggs & Stratton 82V lithium ion 2.0Ah battery kit that contains two lithium ion batteries and a rapid charger for them.
The mower has a whopping 19-inch steel mowing deck.
It's got what's known as load-sensing technology. This means that the mower adjusts its power so that it can meet the demands of its cutting blades.
This mower has a 3-in-1 steel mowing deck that's ready to bag, mulch, or side discharge your clippings. The grass bag can easily fit 2.1 cubic feet of grass clippings.
Extra Features
Just like with the previous lawn mowers, this one's height can be adjusted depending on how much you need to cut. But, this one has seven different positions for the height of your grass, which makes it highly versatile and user-friendly for a range of different grasses.
Sometimes storing your lawn mower can be tiresome and take up a lot of space, but this mower can be stored vertically so it'll save you space in your garden shed or garage. This is a really nice touch, especially if you consider that many lawn mowers can be chunky and take a lot of valuable space.
This mower goes the extra mile when it comes to comfort and convenience. It has an over-molded rubber handle that's ergonomic and makes it easier to use, especially if you've got a lot of lawn to mow in one go.
Drawbacks
Some users on Amazon have reported that the releasing the dive bail and pulling the lawn mower towards you when you're trimming the grass can result in the back wheels getting stuck and causing you to have to drag them.
Other users have reported that the battery life is not as great as it could be, which could cut into your mowing time.
Buying Guide
This Snapper lawn mower costs $599.
It's the most expensive mower on our list so far but it really does go the extra mile to give you features and benefits that you'd find in the best electric mower on a professional level.
So, if you're serious about mowing your lawn and want a product that gives you lots of frills, this is the one to purchase.
Best Under $100: American Lawn Mower Company 50514 14-Inch 11-Amp Corded Electric Lawn Mower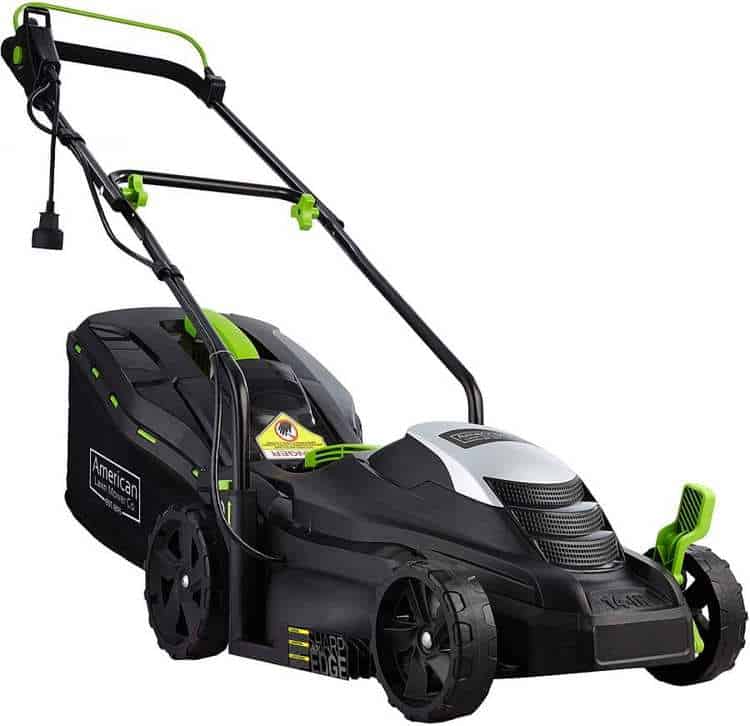 Sometimes you don't have a lot of money to spend on a new lawn mower but you really need to purchase one.
In that case, the good news is that you can still find valuable and reliable electric lawn mowers without having to spend a lot of money.
You can find one for less than $100 and this one by American Lawn Mower is the best to buy because it's such value for money. Let's take a look at its features.
Benefits
This electric lawn mower has an 11-Amp motor that can cut through a range of different types of grass with ease and power.
It's got a 16-gallon capacity grass bag with a grass lever included for the ultimate convenience.
You don't need to use any tools to assemble it, which makes unpacking it and using it quick and easy.
Using this mower is really comfortable, thanks to its ergonomic handle.
Extra Features
It's got five different cutting heights you can choose as well as a large 14-inch cutting width.
It's got many different handle heights to accommodate your height.
Drawbacks
It's not suitable for all terrains, as some users have reported that small rocks will get jammed in the mower's blade, which forces the mower to stop.
Buying Guide
It costs $89.99 and gives you everything you need to get the job of mowing your yard done well and quickly, without breaking the bank.
Runner-Up: BLACK+DECKER MTE912 12-Inch Electric 3-in-1 Trimmer/Edger and Mower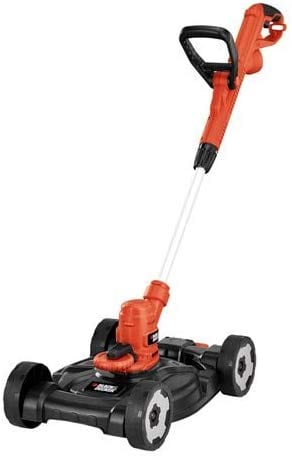 This is another valuable product that you can purchase for less than $100 and being a Black + Decker product means that it's backed by a reliable brand that won't let you down.
This mower has a lot of features that you'd expect to find in a more expensive product.
Benefits
This mower has an AFS automatic feed system. Why this is important is because it works continuously without you having to stop along the way, like if you encounter bumps in the ground.
It's got Gear Drive transmission so you don't get bogged down while mowing, which further contributes to a smoother process.
It's a great all-rounder, allowing you to do three important functions: you can mow the lawn, trim, and cut edges.
Extra Features
This mower will charge completely within four hours, but you can use it at 60 percent charge – and that only takes two and a half hours.
Drawbacks
Although you might be interested in this product to mow your yard, it is meant for ideal property sizes of 750 feet. It's not that great for larger yards, which is a letdown because it's such a compact and efficient model.
Some users have complained that the trimmer doesn't always remain attached to the mowing attachment and can pop out. This happens because the two pieces are secured with nothing more than a quarter-inch lip, which has been said to be a bit of a design flaw.
It's also worth noting that the first spool of line that is provided in the pack with the product doesn't go very far, as users have noted. This can be worked around – just make sure you purchase more so you'll have enough.
Buying Guide
The Black + Decker lawn mower is really value for money, costing just $83.96 on Amazon.
While it might not have all the extra frills and features as some of the mowers we've featured, it certainly does the job of mowing your lawn efficiently and comfortably.
Electric Lawn Mower FAQ
Now that we've looked at the best electric lawn mower for every yard by featuring the most effective ones on the market in this buying guide, let's look at some frequently asked questions about electric lawn mowers.
Are electric lawn mowers any good?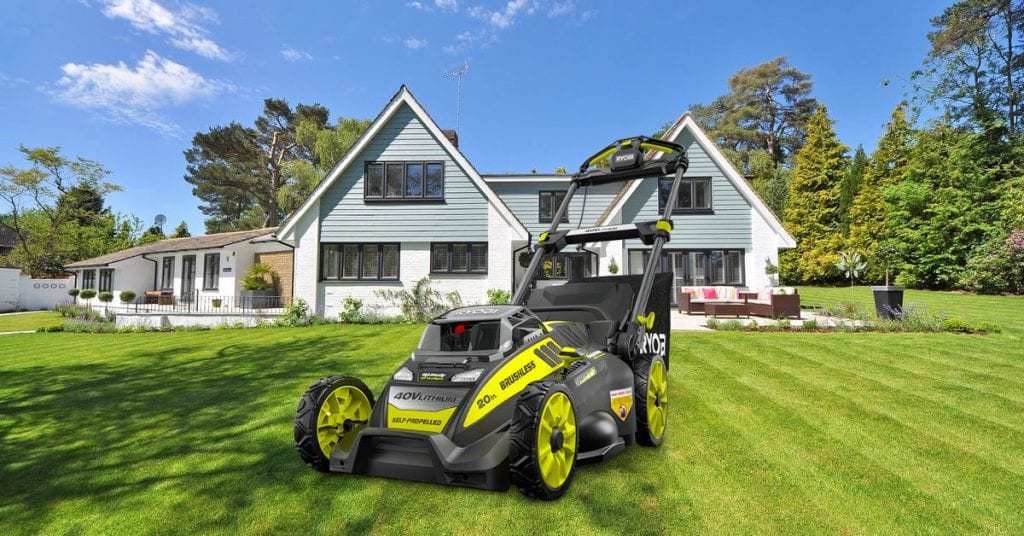 If you've only ever used lawn mowers that use gas, transitioning to an electric lawn mower might make you worry you'll waste money if these products aren't that good.
But you'll be pleased to know that electric lawn mowers are effective products to purchase.
There are various reasons for this.
As we mentioned at the start of this article, electric lawn mowers don't make a lot of noise (so your neighbors won't be upset at you mowing the lawn at 7 a.m. on a Sunday morning).
They don't pollute the air, and they enable you to get away with less maintenance because you don't have to worry about gas-powered lawn mower problems, like having to make regular repairs in the form of changing spark plugs.
This is because an electric lawn mower has fewer parts underneath its hood. That means, less maintenance to keep it in good condition and less worry that it'll break.
You also have more options at your disposal with an electric lawn mower because there are two types: one that works with a cord and one that's cordless and runs on batteries.
In comparison, a gas-powered lawn mower requires you to mow the lawn with the use of gas every single time, which can feel quite limiting.
A corded electric lawn mower is easy to use – just plug it into a power source and you're good to go. It's great for large or small yards, depending on how long the extension cord is, of course.
A cordless electric lawn mower uses batteries to give you power to mow your yard. You just need to make sure that you charge them before you can use the lawn mower for longer periods of time.
That said, you can find electric lawn mowers that give you a decent amount of time in which to use them before they require a recharge.
This can be seen in the Sun Joe Cordless Push Lawn Mower that's featured in our electric lawn mower reviews. It requires a charging time of around four hours, but then it's good to go.
But how well do electric mowers work? Is their horsepower less than that of a gas mower?
If you have an average lawn mower that runs on gas, it can give you two to four horsepower, while non-gas mowers in comparison will give you approximately one horsepower, as Best Of Machinery reports.
What this means for you when you're mowing the lawn with them is that you won't be able to cut through longer grass with as much ease.
How long do electric lawn mower batteries last?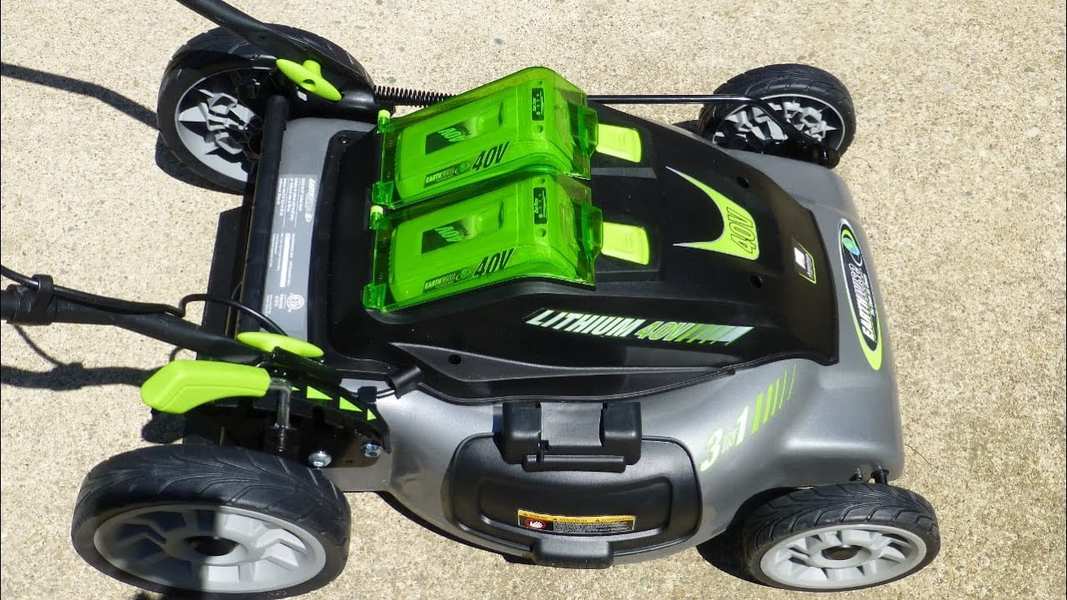 Although this might vary from one model of electric lawn mower to the next, generally speaking the battery of your electric mower will last roughly an hour before it needs to be recharged.
This is usually ample time for you to complete the mowing of your small-to-medium lawn.
The actual battery can last you up to five years, though, before it will have to be replaced, as reported by Electric Mower Report.
Which is better electric or gas lawn mower?
Earlier, we touched on the horsepower you can expect in a gas lawn mower as compared to an electric lawn mower.
But what are the differences between these two products? Let's take a close look at them to find out which one's better.
Performance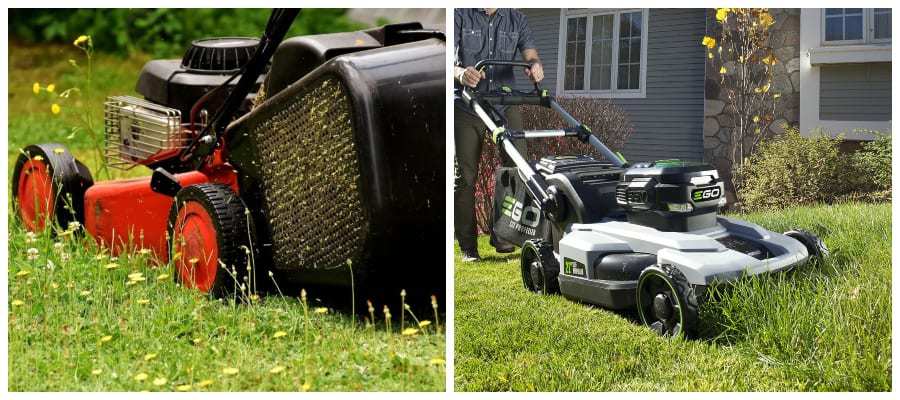 Gas Lawn Mower: If you've let your grass grow a bit longer before mowing it, a gas-powered lawn mower can work well to give you a nice, clean cut. The reason for this is because it works with the same amount of power all throughout the mowing process, as long as there's gas in the machine.
Electric Lawn Mower: The reason why an electric lawn mower is usually said to perform less well than a gas mower is because it's not always as reliable when it comes to mowing overgrowth.
This is simply as a result of its battery operation. As the battery life starts to wear away, this will reduce its performance. That's why cordless, battery-operated lawn mowers are said to be much more suitable for smaller yards that take less time to mow.
Environmental Impact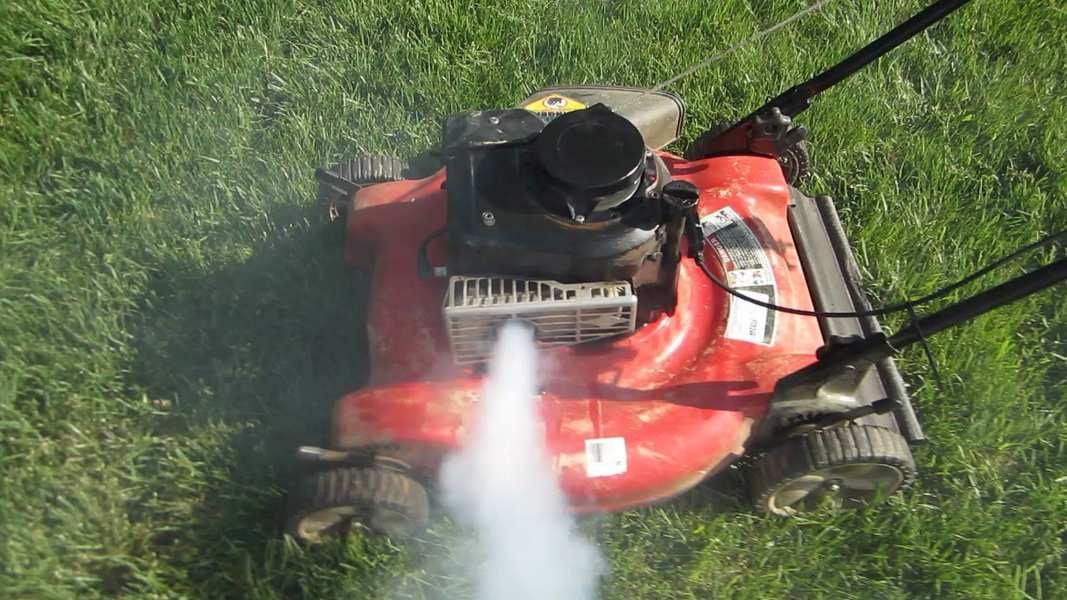 Gas Lawn Mower: These are quite bad for the environment. Although you might not consider them to be, based on how little you use them, here's an eye-opening fact for you:
The Environmental Protection Agency (EPA) reports that just one gas lawn mower releases 88 pounds of CO2, a harmful greenhouse gas, every year! But that's not all. It also releases 34 pounds of other pollutants.
Here's another good reason to rethink buying a new gas lawn mower:
The EPA reports that a new gas lawn mower will produce the same amount of volatile organic compounds and nitrogen oxides in one hour of operation as 11 new cars that are driven around for one hour, as People Powered Machines reports.
What about the effect of all the gas mowers that are used? Well, it's not a pretty picture. More than 17 million gallons of gas are spilled every year when lawn and garden equipment is refueled.
So, it's not just that the gas is polluting the atmosphere when you use your lawn mower, but it's also doing that when it's refueled.
Electric Lawn Mower: This mower definitely wins in this category, being much better for the environment. It not only reduces energy usage if you power it with batteries but it doesn't release pollutants into the air.
And, let's not forget that it doesn't have a negative impact when it comes to noise pollution, which is a plus for the people who live in close proximity to you.
Cost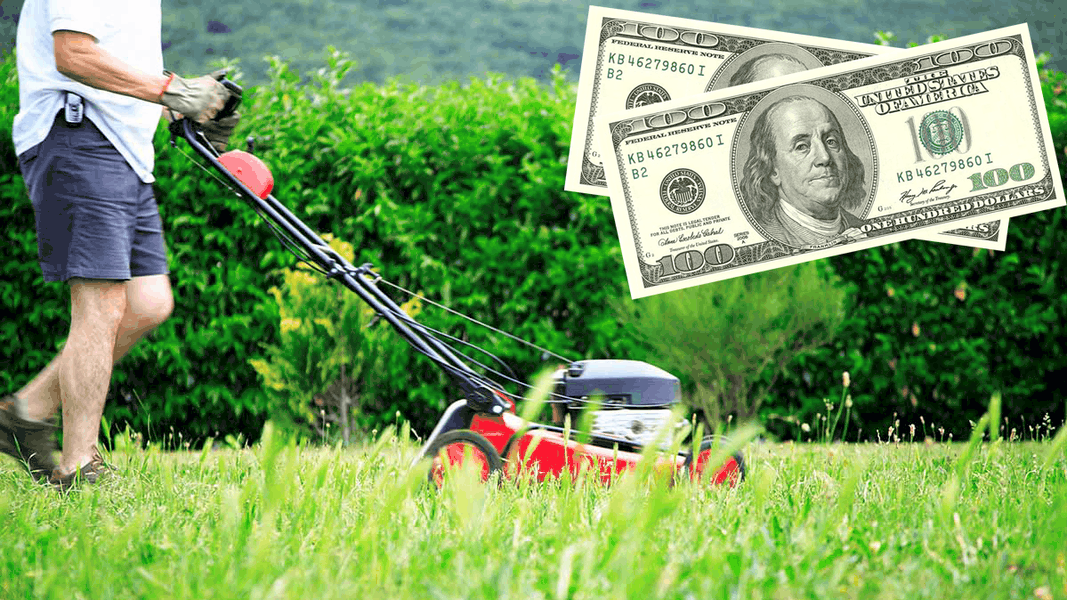 Both gas and electric lawn mowers will have more or less the same cost, and you can find that for the amount of $300 to $500 for both you'll get the same quality in the products.
Of course, as can be seen in this buying guide, you can find quality, highly-reviewed electric mowers for much less than that.
The big difference between gas and electric mowers can be seen when you consider their maintenance. Gas mowers will require more maintenance than electric mowers, which can add up extra costs.
At the very least, you'll have to purchase more gas and oil for your gas mower on a regular basis. If you use your mower a lot, this can easily incur more costs.
That said, the one expense that you'll have to consider with an electric lawn mower is its battery. When the battery wears down, you'll have to replace it.
This could cost you between $50 and $100, as Gadget Review reports, but it's only something you will probably need to consider after many years of use.
So, it's clear that the electric lawn mower can cut your costs in a big way. You don't have to purchase gas for it on a regular basis, and you don't have to worry about the cost of replacing parts, such as filters.
You can also find really economical models on the market that don't wreck your budget.
As can be seen in our electric mower reviews, there are electric lawn mowers that you can purchase for less than $100, such as the Black + Decker Electric Trimmer, Edger, and Mower that gives you everything you need in a cost-effective lawn mower.
Ease Of Use
Which one is easier to use?
Although gas mowers can be said to work easier at times, like if you're dealing with overgrown grass, generally electric lawn mowers are easier to use.
This is mainly because they're much lighter when compared to gas-powered mowers and you can push them around without much of a hassle. In addition, electric mowers will have other features that make them user-friendly.
For example, they tend to have start buttons and even if you're plugging them into a power source, once you're ready to use them you can go ahead – you don't have to worry about refilling them with gas beforehand.
Finally, when considering ease of use, you also have to think about storing your lawn mower. Electric lawn mowers will be easier to pack away because they're lighter to carry and pick up. In addition, some of them come with extra features to make them easier to pack away.
Do electric lawn mowers use a lot of electricity?
A corded electric lawn mower will generally use between 700 and 800 watts of electricity every hour. This is less than what a refrigerator uses in an hour – it uses 1,000 watts.
If you're using a cordless mower, the battery will tend to be between 40 and 90 volts, which will make use of between 600 and 1,400 watts of electricity when they are recharged, as Canstarblue reports.
Can you leave an electric lawn mower outside?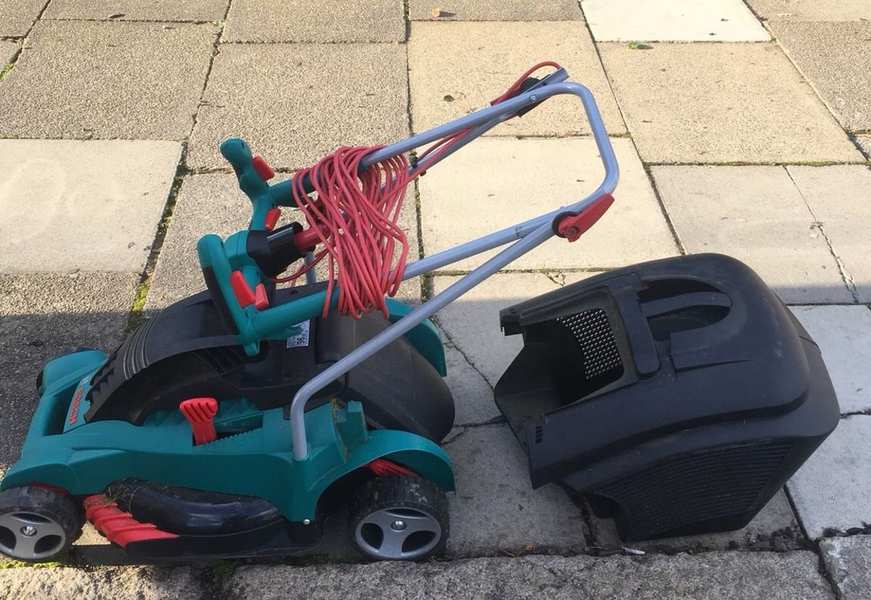 Just because your electric lawn mower requires less upkeep and maintenance than a gas-powered model, that doesn't mean you shouldn't care about it to ensure it works well and you increase its lifespan.
With that in mind, you might wonder if you can leave your electric mower outside.
This is not recommended. Here's why. The elements can be quite harsh on your electric lawn mower. Humidity, sun, and rain can all damage the mower's housing so that it can't perform as well as it was built to.
One of the most important things to avoid is getting rain on your electric lawn mower, so it's not a good idea to mow your yard after it's poured with rain.
This is because water can damage its motor, and that's another reason why it's best to store your electric lawn mower inside, such as in the shed or garage, where it won't be struck by water.
Cutting wet grass is always a bad idea – it not only makes cutting through the grass more difficult, but this puts the mower under more strain, which can damage it, as The Wood Cutter explains.
In addition, if you're using batteries, this extra force can put them under pressure and make them drain faster, requiring you to charge them more regularly.
Conclusion
If you're in the market for a new lawn mower, there are many products out there to satisfy your needs.
Electric lawn mowers are probably your best bet if you're looking for a product that's kind to the environment, easier to maintain, and more versatile – you can use it with power or batteries, so choose the option that works best for you and your lifestyle.
In this buying guide, we've looked at some of the best electric lawn mowers for every kind of yard, so you can find the one with the right features and benefits to make mowing your lawn less of a hassle and more of a pleasure.
---
Last Updated on August 12, 2022 by Gustaf Johansson