You might water your garden daily with the use of a hosepipe or sprinklers, and that's good but it might not be enough.
Perhaps you need to consider using a hose reel to make your job easier.
What's a hose reel?
It's a cylindrical container that's made of stainless steel or that keeps your hose well stored.
While you might think this is an unnecessary piece of garden equipment, it does have many benefits.
Your garden hose reel can help to maintain the integrity of your hose. It keeps it safe and prevents it from getting damaged.
Leaving your hose around the garden might seem convenient but it can get kinks in it or can be dangerous because you can trip over it since it blends in with the grass.
Luckily, a garden hose reel doesn't have to be costly. In addition, you can find ones with really great features.
Here's our guide to the best garden hose reel: water your garden more effectively and keep your hose in good condition.
Best Overall Winner: Liberty Garden 712 Single Arm Navigator Multi-Directional Garden Hose Reel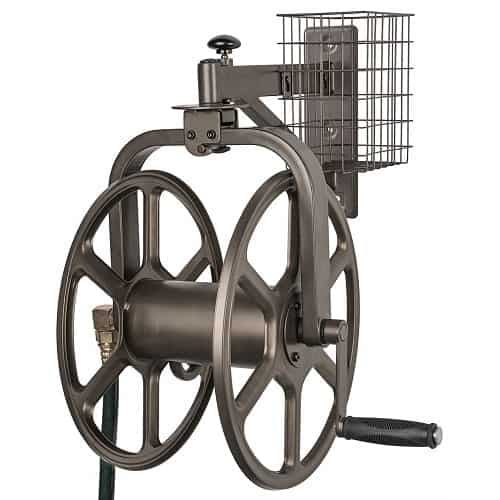 This Liberty Garden hose reel is one of the best that you'll find on the market. Here's why it makes our number-one spot.
Benefits
This garden hose accommodates 125 feet of 5/8-inch garden hose, so it's probably more than the average hose length that you'd need.
This garden hose reel is strong and durable, made with 18-gauge steel construction. It also has a bronze powder finish which makes it resistant to weather.
It comes with a pull-up knob to make using it much more convenient. This knob enables you to rotate the reel a full 360 degrees so unwinding the hose is easy to do in a flash.
It even has a storage tray where you can put all the garden tools or sprinkler nozzles you need, which is a nice feature if you like double-duty items.
This garden reel hose is wall-mounted for the utmost convenience. Simply mount to a wall in your garage or garden shed where it's easy to uncoil when you need it.
Extra Features
While it can be troublesome to have to install garden reel hoses, this one is fully assembled. Once you unpack it, you simply have to attach its handle and then you're ready to start using it!
Drawbacks
A criticism some users have mentioned about this product is that there's only one mounting hole that's been provided on the garden hose reel. You might find that it requires more than that, which you'll have to make yourself.
Buying Guide
This is the best garden hose reel and only costs under $115 on Amazon.
It's clear to see that it's got a lot of extra features to make it strong, durable, and user-friendly – and even some nice bonuses, such as a storage tray.
Runner-Up: Liberty Garden 708 Steel Decorative Wall Mount Garden Hose Reel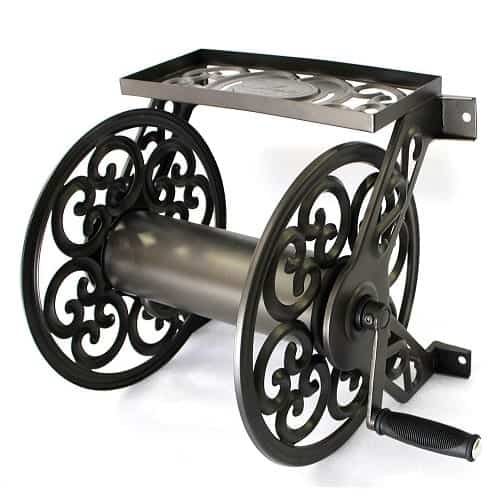 Maybe you love Liberty Garden products but can't afford the previous hose reel from the manufacturer.
No worries – here's a second Liberty Garden hose reel that's a bit more affordable while still offering great features.
Benefits
Similar to the previous Liberty Garden product, this water hose reel has steel construction that makes use of a durable coat finish to make it resistant against the elements.
It comes fully assembled, so you don't have to hassle with setting it up.
It has a shelf included which is great for extra storage in your garden shed.
Since its made of strong materials, users have commented that this garden hose reel doesn't leak and has a longer lifespan than reels that are made out of plastic.
Extra Features
It not only stores your garden hose, but it looks good while doing it! This wall-mounted garden hose has spiraled flourishes and brass fittings that are both durable and stylish. It's perfect if you like a bit of a decorative touch in your garden.
Drawbacks
There is no mounting hardware included with this product, such as screws, which is a disadvantage because you'll have to purchase them separately.
Buying Guide
This Liberty Garden hose reel costs under $85, so it saves you money without cutting back on the important features you want in a garden hose reel.
It also has the bonus of a stylish appearance.
Alternatives: AMES 2388340 ReelEasy Side Mount Reel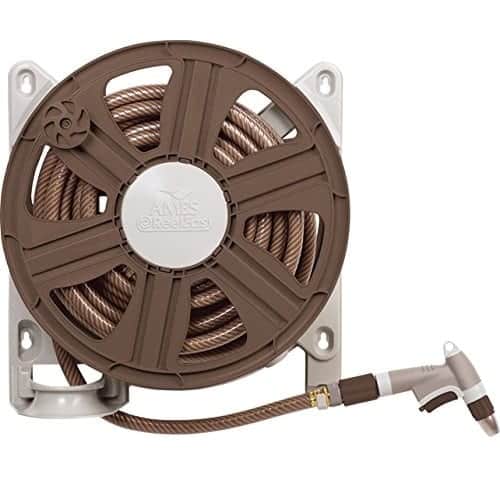 This garden hose reel does what many others fail to do: it doesn't look chunky!
It's neat and tidy while being easy to store away. Let's take a look at all its features.
Benefits
This garden hose reel can accommodate 100 feet of 5/8-inch hoses. But what makes using and storing it so convenient is that it has a clip provided.
It comes fully assembled while being easy to mount.
It has an integrated hose guide. This means that the hose will be aligned with the reel. This makes winding it up after watering the garden much easier and stress-free, plus anyone can do it, even the kids.
It has an easy-grip which makes spinning it much less of a hassle.
Extra Features
This garden hose reel comes with a leader hose included, which is a nice touch.
Users have commented that the company offers great customer service, which is important if you encounter difficulties or problems with this garden hose reel.
Drawbacks
Although it's made of strong metal, there are some plastic pieces that form part of the garden hose reel's construction. These tend to break, so you have to be quite careful with them.
Buying Guide
This garden hose reel costs under $55, which makes it budget-friendly while also enhancing the process of watering your garden.
It's simple and convenient, giving you everything you need.
Liberty Garden 703-1 Multi-Purpose Steel Garden Wall/Floor Mount Hose Reel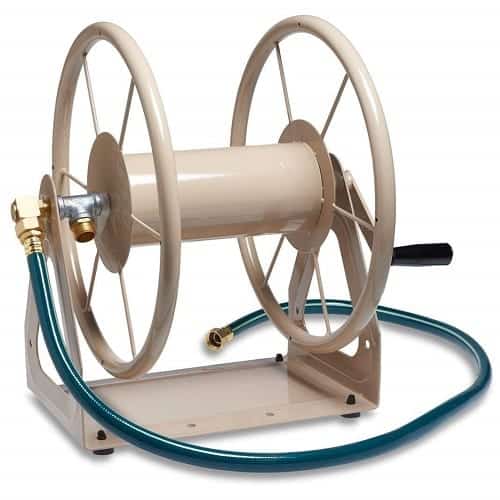 This is yet another product from Liberty Garden – it's clear they are a force to be reckoned with when it comes to garden hose reels.
This specific product is tan instead of black or bronze, so it's immediately eye-catching. Let's take a look at its benefits.
Benefits
This garden hose reel is constructed out of 13-gauge steel with an industrial-strength powder coating that's resistant to the elements, so you'll get many years out of it.
It has a capacity of 200 feet, so it's the hose reel with the greatest capacity on our list.
One of its biggest advantages is that it offers versatility. While some garden hose reels have to be mounted onto the wall, this one gives you options. You can mount it to the wall if you like, but you can also anchor it to the ground with the use of its rubber feet.
Extra Features
It comes with a leader hose that's five feet long.
Drawbacks
Unfortunately, some users have reported that the leader hose isn't that strong or durable.
Buying Guide
You can purchase a new Liberty Garden hose reel for under $70 from a variety of sellers.
It's strong and durable, but what makes it worth the money is its versatility.
Rolio Expandable Garden Hose with Hose Reel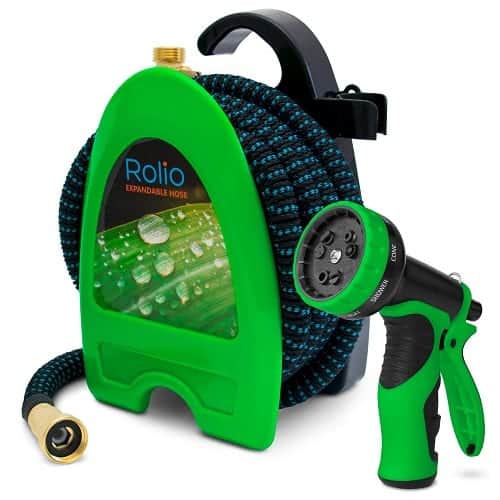 This is a retractable water hose reel that offers greater convenience. Let's take a look at what that means as well as its other benefits.
Benefits
This garden hose reel has a dura-flex double-layer core that's been specially designed. This means that it's much more durable than other hoses.
It's an expandable hose that has solid food-grade brass connectors to prevent leaking. What it means by being expandable is that it's flexible to shrink into a smaller size for more convenient storage. It stretches to 75 feet when used and then goes back to 25 feet when stored away, which is perfect if you have to store it in a small space.
It's got a rust-resistant construction and a double-seal design – these qualities further makes it resistant to leaking.
It comes with a convenient carry handle, so you can easily transport and store it.
Extra Features
The Rolio expandable garden hose reel comes with an extra attachment included: a 9-type hose spray nozzle that has an easy-flow control valve which enables you to set how much pressure you want in the hose nozzle.
It's got a non-slip handle that's been ergonomically designed. This makes it easy to hold and use, even if it's wet.
Drawbacks
Some users have reported that it's essential to uncoil the entire hose before turning on the water and you can't only use the amount of hose that you need. The reason for this is because when the hose has pressure in it, it expands and can, therefore, cause a tangled mess if it hasn't been uncoiled completely.
Buying Guide
You can choose between two products: one that expands to 50 feet, and the other that expands to 75 feet.
The one that expands to 50 feet is under $40 while the one that uncoils to 75 feet is under $45.
Whichever one you choose, this garden hose reel is friendly on your wallet and has some nice features to make watering your garden a breeze, whether you're a gardening pro or beginner.
Garden Hose Reel FAQ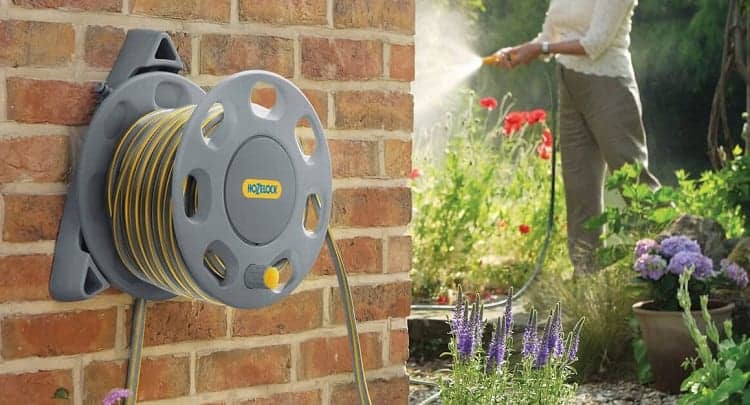 Now that we've looked at the best water hose reel products on the market, let's take a look at some commonly asked questions about garden hose reels and how to use them.
What are the Best Type of Garden Hose Reels?
When it comes to shopping for garden hose reels, one of the most important things to look for is how well they have been made.
The best garden hose reel will avoid the use of plastic and make use of durable materials, such as steel. In addition, it's always important to check that the garden hose reel is resistant to the elements and can be mounted, such as onto the wall, for greater convenience when storing it away. Another important point is to make sure that the garden hose reel is easy to carry around the garden and it can accommodate enough hose length that you need.
How to Attach a Hose to the Hose Reel?
To put a hose on your garden hose reel, you should follow these steps. First, make sure you disconnect the hose reel from the spigot. Install a vacuum breaker because you want to prevent contaminated water from flowing into your freshwater supply, as Hunker reports. You will see the water coupling (short pipe or tube) on the inner drum of the hose reel become visible once the old hose has been removed. You will need to disconnect the hose from the coupling with the use of adjustable pliers.
Then, remove the garden hose from the reel. Put your new garden hose on the ground and uncoil it so that it's free of kinks. If your new hose feels very stiff and difficult to work with, you might want to leave it outside in the sun for a bit so that it will become a bit more flexible. Attach the female end of the hose to the drum. Always check that the rubber washer is secure to prevent water leaks, and ensure the coupling is also fastened well. Wind the garden hose onto the reel in a clockwise rotation. It's a good idea to firmly hold the hose with one hand while you turn the garden hose reel's handle with your other hand. Once the garden hose is rolled onto the reel, you can attach the hose reel to the faucet.
How to Make a Garden Hose Reel?
One method is to make your own wall mount on which you can store your hose. To do this, you'll need three empty cord spools. Attach them to your fence or wall but make sure you space them out correctly so that you can easily coil your garden hose around them. To ensure your garden hose will be coiled securely and easily on the wall, fasten one cord stool in place. A few inches below it and a bit to the left, fasten your second one. Your third cord spool should be a bit lower and to the right of the second one. This creates a triangular shape with the lower right point being lower than the others. This design will ensure that you have enough tension when wrapping your garden hose around the spools.
What Length of Hose Reel Do You Need for the Average Garden?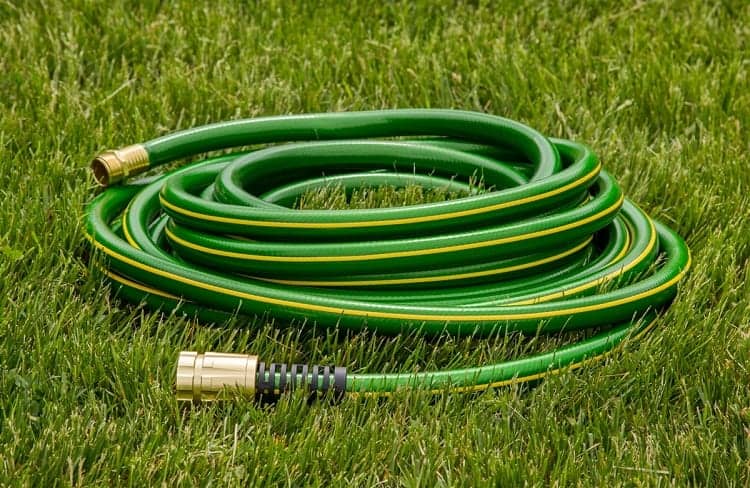 It's good to know that the average length of hose reel that you will need for the average garden is between 50 and 100 feet, but you can find ones that are longer. It's always better to choose ones that are a bit longer so that you can reach tricky places in the garden.
Conclusion
It's clear that a garden hose reel is an essential piece of equipment you need to regularly water your garden and protect your hose from damage.
However, there are so many different types of garden hose reels that it's not always easy to know which one to purchase.
In this buying guide, we've looked at five of the best garden hose reels that offer you durability and greater convenience, which makes them perfect for both the gardening pro or beginner.
---
Last Updated on August 12, 2022 by Gustaf Johansson