You have a beautiful lawn you want to maintain so that it keeps looking so good, or perhaps you want to grow one from scratch.
Whatever the case, you need a lawn sprinkler to make it easier to water your grass on a regular basis and keep it healthy.
Why is a lawn sprinkler so important?
A sprinkler system can save you time because it can be set to water your garden without you having to remember to do it or even be home.
This can save you money because you'll only use the water that your garden really needs.
It's clear to see that sometimes a watering can just won't cut it!
There are many different types of sprinklers to choose from, so we've outlined five of the best ones.
Let's take a more in-depth look at them and how they work to make your lawn the greenest one on the block.
Best Overall Winner: Orbit 50021 IN-GROUND 2-Zone Sprinkler Kit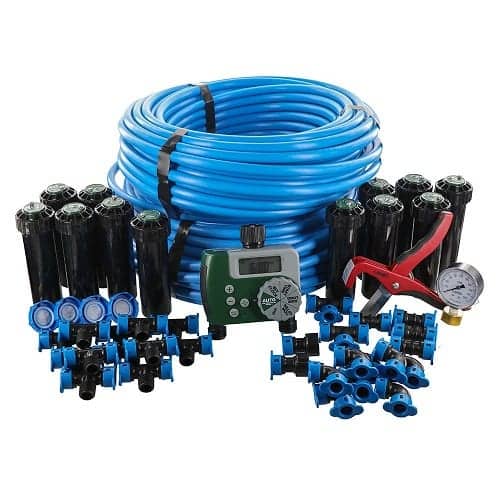 When you want to set up a sprinkler system in your garden, it's not always easy to know where to start.
If you don't have much knowledge about sprinkler systems, then ideally you will want to find a sprinkler kit.
These are kits that make your life a lot easier because they have everything you need so you don't have to worry about buying extra pieces to water your lawn.
The Orbit kit doesn't disappoint in this regard, which is why it's the best sprinkler for lawn requirements.
Let's take a look at its great features and why it's our overall winner for the best lawn sprinkler for your garden.
Benefits
This Orbit kit contains the following items: 12 sprinklers, Blu-Lock tubing and fittings, a tubing cutter, a 200-pound pressure gauge, and a digital timer. It's a complete set.

Although it has everything you need, you might wonder if it's easy to install. The hassle of installation is a common reason why you might avoid sprinkler kits, to begin with, but the good news is that it's really easy to install this one. This is thanks to the Blu-Lock system that makes it easier to work with so you don't have to feel stressed when setting it up.

As a bonus, the Blu-Lock system isn't just easy to set up, but it is both durable and strong, as users have reported.

It comes with a smart digital timer that has a rain delay feature. This means that it will stop watering your garden if it senses that it has started to rain instead of wasting water. This is especially useful if you're not at home when the sprinkler is programmed to work. Since we're all becoming more aware of our water usage, this is a really nice touch.

There are many different ways in which you can program the sprinklers. You can set a time of between one and 240 minutes. You can also set intervals from every six hours to once a week, depending on what watering schedule is most convenient for you.
Extra Features
The Orbit system is environmentally-friendly, which is important to maintain the integrity of your soil. The Blu-Lock system doesn't require any plumbers tape or glue during installation, and this prevents the leakage of harmful toxins that enter the environment – something that is quite common in the case of PVC fittings.
Drawbacks
Some people who purchased the product have reported that they battled to find extra parts that they needed, such as when replacing parts, whether in physical stores or on Amazon.
Buying Guide
This best water sprinkler kit costs under $240.
It has everything you need for a great sprinkler system, while being made with versatility and user-friendliness in mind, so it's great for beginners and pros alike.
It also has some extra features that really make it value for money.
Runner-Up: Rain Bird 32ETI In-Ground Automatic Sprinkler System Kit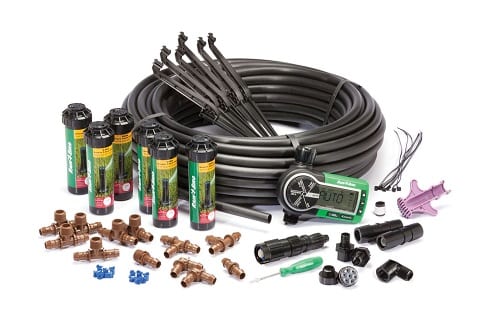 If you own a large garden, you know how frustrating it can sometimes be to use a sprinkler system.
Some don't give you the spraying distance that you need while others water certain areas of your garden more than others.
The result is that you get an uneven garden with plants thriving in one spot and grass dying in another. It's a nightmare.
This sprinkler system by Rain Bird changes all that.
It's been built specifically for medium and large gardens that measure between 1,000 and 3,000 square feet.
If you want sprinklers that work effectively at making your lawn green while also looking good, then this one's a must to check out.
Benefits
One of the nicest things about this sprinkler kit is that once it's installed, the sprinklers actually retract into the ground. This prevents an unsightly appearance and makes mowing the lawn a fuss-free process too. It also makes the sprinkler heads more durable because they won't be disturbed.
This sprinkler kit is really easy to install. Simply attach it to an outdoor faucet and install it within a few hours.
The rotary sprinklers make use of a patented nozzle technology that ensures a reliable curtain of water which goes where you want it to go and is resistant to windblown overspray. This saves water and prevents it from accumulating in certain areas which can cause you lawn problems from the excess moisture, such as fungus.
Extra Features
This best yard sprinkler kit contains 125 feet of 1/2-inch distribution tubing, six professional pop-up rotary sprinklers, one durable automatic hose-end timer, and fittings. You'll have everything you need to set it up in one go.
Drawbacks
Although the kit is said to be super-easy to set up, users of the product have claimed that the instructions are poor and it can be tricky to do. This could affect you if you've never installed a sprinkler or sprinkler system before. In this case, you might have to enlist the help of your gardening friend.
Buying Guide
This in-ground sprinkler system kit costs under $300.
It's really value for money if you consider that the cost of sprinkler kits can run into thousands of dollars.
It's worth purchasing for how it hides your sprinkler heads from view and saves water alone.
Best Sprinkler Kit For The Money: Orbit 2 Pack Port-a-Rain Yard Watering Sprinkler System Kit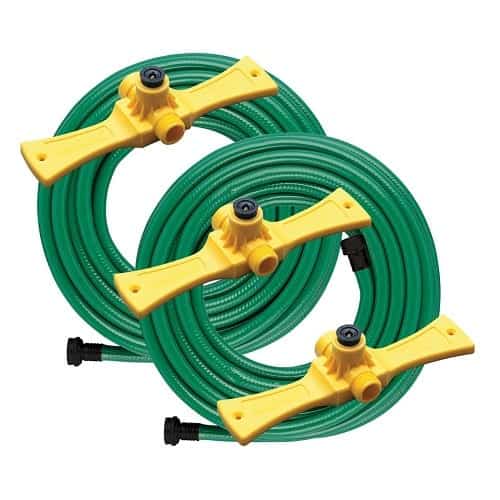 Orbit offers another high-quality product that's regarded as the best lawn sprinkler system, so how is it different?
This one's great for you if you don't want to spend a lot of money on getting a beautiful lawn.
Let's check out what features it has.
Benefits
One of the best features about this Orbit sprinkler system kit is that you can change sprinkler heads in three ways: you can program full, half, or quarter-circle sprinkler patterns.
Users have claimed that these sprinklers offer a nice spraying pattern that mimics falling rain.
Extra Features
The sprinklers come with two hoses included in the pack, which is value for money.
Drawbacks
Some users have reported that the spray radius of the sprinklers isn't that strong, so it's probably best for use in smaller gardens.
The sprinkler heads don't rotate and are made of plastic. This can make them break easily, which is a concern. In addition, they're light in weight so you might have to flatten them to prevent them from flipping over from strong water pressure.
Buying Guide
This sprinkler system costs under $55.
For such a small amount of money, you get everything that you need from a sprinkler system, and it's especially useful if you have a smaller yard that doesn't require a lot of frills or fuss.
Best Single Sprinkler: Melnor 65003-AMZ MiniMax Turbo Oscillating Sprinkler Set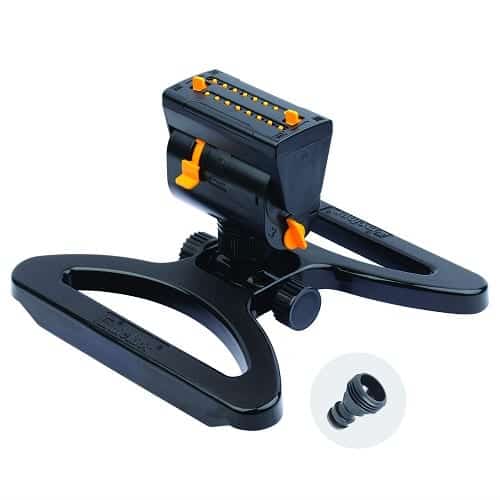 Sometimes you don't want an entire sprinkler system kit, and this is usually the case if you don't have a large garden or lawn.
If that applies to you, then the Melnor single sprinkler is a good choice.
Benefits
Although this oscillator is small in size, it gives sprinkler coverage up to 4,000 square feet so it does more than what you would expect.

You can adjust it in four different ways so that your water exactly where you want to in your garden.

It has a turbo-drive motor for smoother, fuss-free usage that prevents puddles from forming. This also increases the sprinkler's lifespan.
Extra Features
You can easily connect as well as disconnect the sprinkler thanks to the Quick Connect Product Adapter that is included with the kit.
Drawbacks
There is a catch with the Quick Connect adapter, though. It needs to be used with the Quick Connect Product End Connector, but this isn't included with the sprinkler kit and has to be purchased separately.

Some users have reported that the coverage of water thins out the further out it is directed so that's something to bear in mind. It's probably best to purchase this sprinkler if you don't need to water over large distances.
Buying Guide
This sprinkler costs under $20.
It's much cheaper than sprinkler kits that have already been featured in this buying guide.
If you have a small property then it's probably exactly what you need to keep your garden looking beautiful and green.
Although it doesn't have many frills and extra features, it does what it's supposed to.
Single Sprinkler Runner-Up: Milemont Garden Sprinkler 360 Degree Rotating Lawn Sprinkler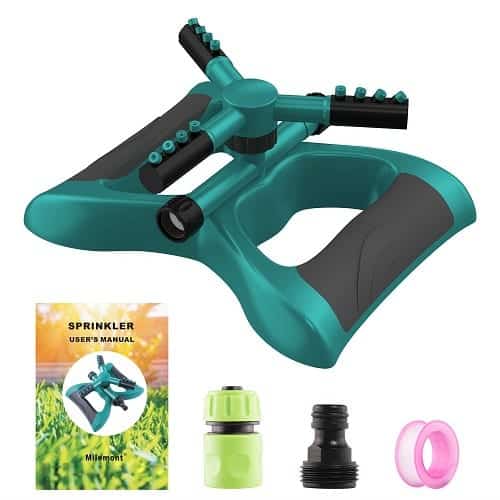 This sprinkler does a lot for you while being value for money.
It also has some interesting features and benefits that go the extra mile to give you greater convenience and allow you to customize how you water your garden.
With that in mind, let's jump into its benefits!
Benefits
This sprinkler has an automatic rotating water spray that rotates 360 degrees.
It comes with three adjustable rotating arms, so you can choose exactly where you want the water spray to go.
It also has 12 built-in angle spray nozzles for the ultimate sprinkler customization. This is something that's really important in sprinkler systems so that you can use them according to your garden's size and design, without over-watering or under-watering your garden.
This sprinkler gives you a lot of coverage. You can cover up to 3,600 square feet.
This sprinkler also has two water inlets that connect with more sprinklers so that you can irrigate larger areas of your garden if you need to.
Extra Features
It's easy to install and it has a well-sealed connection to boost your water pressure and prevent water leaks from occurring, thus saving you both water and money.
Drawbacks
Although the sprinkler is lightweight and therefore easy to handle, users have reported that the sprinkler isn't heavy enough to battle against strong winds. Sometimes a twist in the hose can also throw it out of whack, preventing the sprinkler from remaining in place.
Buying Guide
This best hose sprinkler costs even less than the Melnor product we've already featured.
It comes in at just under $20!
It's got everything you need while being versatile and customizable.
You get a lot of great features for a really budget-friendly price so if you're just starting out with taking care of your lawn or garden, this one is a valuable product to try.
However, even garden enthusiasts will love the convenience they can achieve with this sprinkler.
Lawn Sprinkler FAQ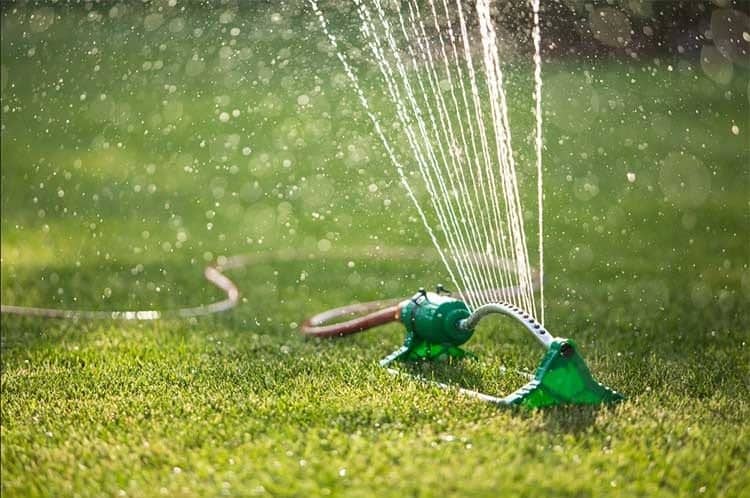 Now that we've looked at the best lawn sprinklers for your garden to keep your plants and grass in healthy condition, let's answer some frequently asked questions about lawn sprinklers in general.
How Long Should You Run Lawn Sprinklers?
The magic amount of time is 30 minutes, so if you've been watering your garden for hours at a time until now, it's time to stop. If you give less than that, your grass will be thirsty. For your lawn to be healthy and for grass to grow, it needs at least one inch to one-and-a-half inches of water every week and all through the seasons.
Pro tip: How can you test if you're watering your lawn enough? If you can't put a 6-inch screwdriver into your lawn then it's too dry and needs more water. While you should stick to watering your lawn about three times a week, always make sure you water it in the mornings.
Is It Bad to Water Grass at Night?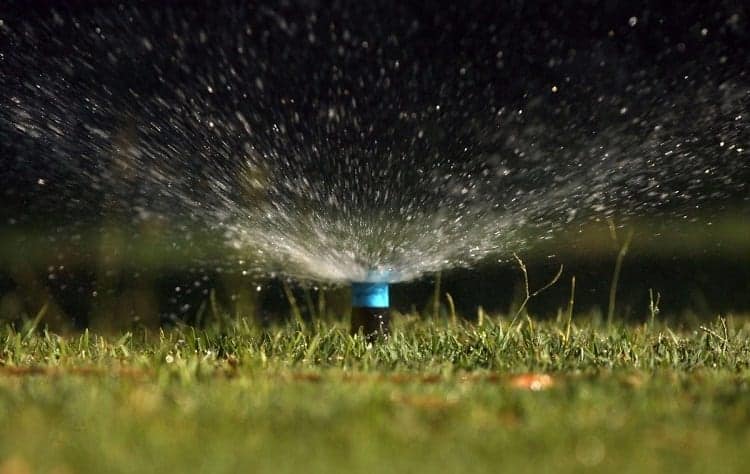 While you might think that it's a good idea to water grass at night when it's cooler, this is one of the worst things you can do for your lawn. If you water the grass in the evening, this can result in your lawn remaining wet all through the night and this also makes it prone to disease and fungus.
Watering your lawn during the night also results in less evaporation, and that's the perfect breeding ground for pathogens to enter your grass, as SF Gate reports. The best time of day to water your lawn is in the early morning.
How Does the Lawn Sprinkler Work?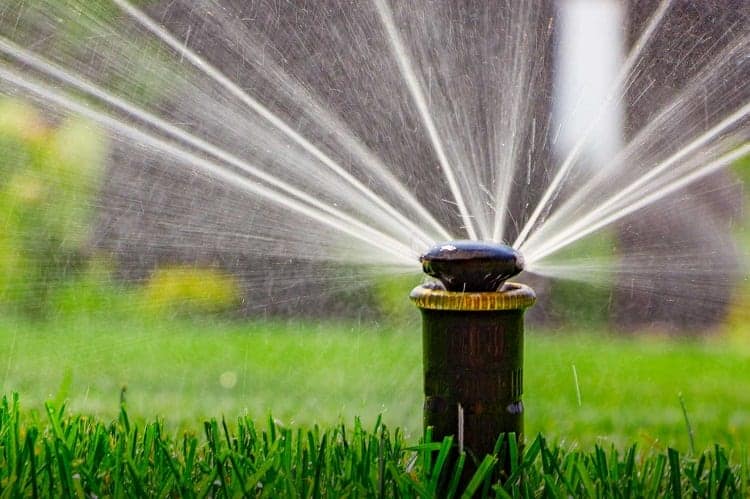 A lawn sprinkler works with the use of pipes that run underground and connect to your home's water supply. They're attached to the sprinkler heads that are placed in different areas of the garden, ensuring that you will get an even distribution of water when they are switched on. Now, there's also a valve system that connects to the start of the different piping areas that have been set up in your sprinkler system. These are controlled by a timer's electrical impulses so that the valves can open when they're "told" to, as Medium explains. The sprinkler's timer will be connected to the house's main electrical panel and will make use of electrical impulses to activate those valves, as mentioned earlier.
What Makes a Sprinkler Rotate?
With a rotating, or oscillating, sprinkler, you have to attach your hose to a connector on the right-hand side of the sprinkler. Here, you can usually adjust the spray pattern you want for your water. You'll see an arm next to the knob that moves in and out as it's controlled by a heart-shaped cam, as How Stuff Works explains. The cam moves around when you turn on the sprinkler and this causes the arm to rotate. The spray arm also screws into the sprinkler's body, and when water moves into it, it then gets sprayed out of the nozzles. The sprinkler cam is one of the most important parts of the sprinkler because it is what pushes the spray arm.
How to Set Up Your Sprinkler Kit?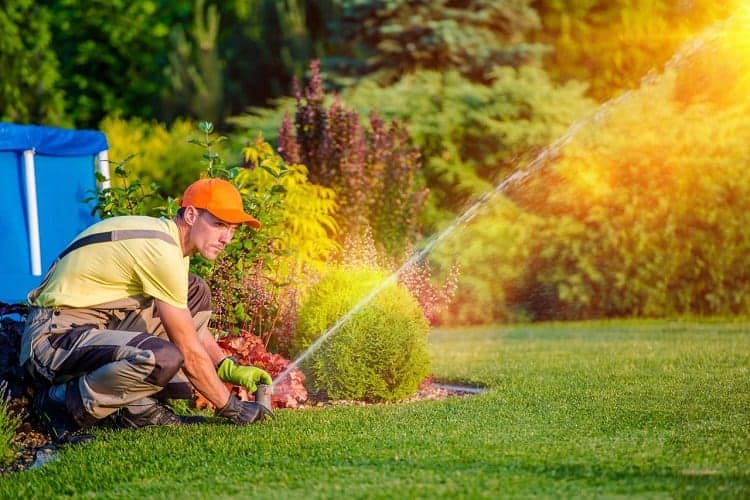 The easiest way to set up your sprinkler kit is to connect it to an existing spigot, but you could also use the main water service line then install an anti-siphon valve. This prevents water that's filled with fertilizers and lawn chemicals to enter the main water supply. Then, dig a trench that's approximately eight inches deep, but ideally, you should go as deep as 12 inches. This is important because the pipes you place in the ground for your sprinkler irrigation need to be deep enough. Leave the trench you've dug and install your valve manifold. You must dig another hole in the ground that's a bit bigger than your valve manifold box and then put this box into the hole. Make sure you attach one end of the valve manifold to the main water supply, as DIY Network reports.
Connect your PVC pipes to the open end of the valve manifold then place the pipe along the trench you've already made. Make use of tee connectors for all the pipes that run off your main line. At each flag, place some risers with 90-degree connectors. Go sparingly with the adhesives you use to attach them, as you want them to be connected in a smooth way with not a lot of glue as that can cause clumps. Finally, install your controller according to the sprinkler manufacturer's instructions.
Conclusion
The best type of lawn sprinkler is essential to keep your grass looking fresh and green, while also ensuring that it stays healthy.
In this article, we've outlined the best lawn sprinkler for your garden, as well as featured alternative products that you can find on the market, such as budget-friendly options that give you the sprinkler systems you need without the added cost.
In addition to that, we've also looked at some common questions surrounding garden sprinklers, such as how to use them for the best results and how they're built to work.
You will also be able to set up a sprinkler kit yourself by following our DIY steps.
By knowing more about sprinklers and sprinkler kits that are available to make your gardening chores much easier, you'll be in a much more informed position to purchase the best sprinkler that you need – and set it up in your garden to suit your watering needs.
---
Last Updated on August 12, 2022 by Gustaf Johansson