It can be quite fun as a kid to run around the yard and pick up some dandelions. When you grow up and own the lawn that the dandelions are growing in, your opinion towards these yellow flowers may change considerably.
Dandelions have some positive and negative attributes, which we will discover. However, you probably don't want your lawn to be overtaken by dandelions. Let's look into some ways to get rid of dandelions both naturally and with commercial weed control.
The 10 Best Dandelion Killer Options
Ortho WeedClear Lawn Weed Killer Ready to Spray: For Northern Lawns, 32 oz.
Scotts Turf Builder Triple Action, Weed Killer and Preventer Plus Lawn Fertilizer, 4,000 sq. ft., 20 lbs.
Ortho Weed B Gon Weed Killer for Lawns Ready-To-Use2 with Comfort Wand, 1 gal. (193210)
OrganicMatters Natural Weed Killer Spray, Contains No Glyphosate, People, Pets and Planet, Results in Less Than 24-Hours (128 oz Gallon Refill)
Bonide (BND323 - Weed Beater Fe, Weed Killer Concentrate Derived from Iron (16 oz.)
Scotts Turf Builder Triple Action, Weed Killer and Preventer Plus Lawn Fertilizer, 4,000 sq. ft., 20 lbs.
Ortho Weed B Gon Weed Killer for Lawns Ready-To-Use2 with Comfort Wand, 1 gal. (193210)
OrganicMatters Natural Weed Killer Spray, Contains No Glyphosate, People, Pets and Planet, Results in Less Than 24-Hours (128 oz Gallon Refill)
Bonide (BND323 - Weed Beater Fe, Weed Killer Concentrate Derived from Iron (16 oz.)
1. Ortho WeedClear Lawn Weed Killer Ready to Spray
Ortho WeedClear Lawn Weed Killer
Kill weeds without harming your lawn (when used as directed) with Ortho WeedClear Lawn Weed Killer Ready-To-Use Refill; kills all major broadleaf weeds (see label for weed list), including dandelion, chickweed and crabgrass
RESULTS IN HOURS: This weed killer is rainproof in 1 hour and delivers visible results in hours, after just one application.
OVER 200 TYPES OF WEEDS: Kills weeds to the roots and won't harm the lawn when used as directed; kills over 200 types of weeds (see label for weed list)
FOR MULTIPLE LAWN VARIETIES: For use on grasses including Bermudagrass, Buffalograss, Tall Fescue, Fine Fescues, Kentucky Bluegrass, Ryegrass, and Zoysiagrass
TREAT ENTIRE LAWN: Simply connect the garden hose to the attached sprayer to target weeds with your desired nozzle setting; treats up to 5,000 sq. ft.
The Ortho WeedClear Lawn Weed Killer is a ready to spray option that allows you to spray it directly on the dandelion. With many weed killers, you will need to watch out for the turf in the surrounding area. However, with the Ortho, you will not have to worry about harming your lawn.
In addition to the dandelions, the Ortho WeedClear can take care of clover, crabgrass, and foxtail as well. You should only need one strong spray on the dandelion, and the Ortho will have taken care of the issue. Try to spray the dandelion flowers at first glance so they don't continue to spread.
Pros
Won't harm your lawn
Should work with one spray
Fast-acting
Cons
Don't use in St. Augustine grass
2. Scotts Turf Builder Triple Action Kills Weeds Including Dandelions & Clover Prevents Crabgrass
Scotts Turf Builder Triple Action
Scotts Turf Builder Triple Action is a 3-in-1 formula that kills listed weeds, prevents crabgrass, and feeds to build thick, green lawns
Built-in lawn weed killer controls existing dandelion, clover, dollarweed, ground ivy, chickweed, plantain, henbit, and english daisy
The Scotts Turf Builder Triple Action is a bit different than a typical dandelion spray killer. With the Triple Action, you will kill weeds, prevent future weeds, and feed the turf all at the same time. This is going to be applied to the entire lawn using a spreader.
There is a wide range of grasses that the Turf Builder Triple Action will work on, and it should be effective for about four months. Opinions vary on how often to treat your turf with a product like this, but we see no harm in three times a year, as long as the weather conditions are ideal.
Pros
Takes care of several things at once
Works on a variety of weeds
Easy to apply with a spreader
Covers a large area
Cons
May not be necessary for one dandelion in your turf
3. Ortho Weed B Gon Weed Killer for Lawns Ready-To-Use2 with Comfort Wand
Ortho Weed B Gon Weed Killer
Lawn-friendly weed control
Won't harm the lawn (when used as directed)
Kills weeds to the root
Rain-proof in 1 hour
Results in hours
Kills dandelions, clover and other broadleaf weeds
Won't harm the lawn – Guaranteed (When used as directed.)
As you probably noticed in our top option from Ortho Weed, you will need to attach the chemical killer to a hose to apply it to a large area of your turf. The Ortho Weed B Gon Ready To Use can be applied to a single dandelion.
The great thing about this model is that it comes with its own small sprayer. The chemical is already pre-mixed, and it should store well for a long period of time. Simply grab the jug and start walking around your property, and spot treating different weed issues that you come across.
Pros
Comes with its own small sprayer
Pre-mixed
Rainproof in one hour
Kills broadleaf weeds
Cons
Sprayer can get clogged at times
4. OrganicMatters Natural Weed Killer Spray, No Glyphosate
OrganicMatters Natural Weed Killer Spray
NATURAL WEED KILLER - Made from Natural Ingredients. Contains No Glyphosate
ELIMINATES WEEDS IN LESS THAN 24-HOURS - Our Concentrated Formula Eliminates Over 250+ Weed Types FAST Including Crabgrass, Dandelions and Other Broadleaf Types
DRIES EVEN FASTER - OrganicMatters Weed Killer Spray Is Ready To Use And Sprays Quickly & Dries Faster.
CONFIDENTLY USE ANYWHERE - Use Around Flower Beds, Shrubs and Trees, Barns, Driveways, Edging, Fence Lines, Foundations, Gravel Areas, Mulch Beds, Overgrown Weed Areas, Parking Areas, Patios, Pavers, Pool Areas, Rock Walls and Pathways, Walkways, Wells & Water Systems. Anywhere That Weeds Are Not Wanted
The Organic Matters Natural Weed Killer is a great choice if you have children rolling around in your grass. The OrganicMatters weed killers work with materials that are not going to be harmful to people but can still get the job of killing weeds completed.
You will need a sprayer to use this model, so you must be prepared with that, and some critics will say that it does not get rid of weeds quite as fast. However, if you plan accordingly and don't let the rain wash this away before it has time to work, it is a great choice for one of the best dandelion killers.
Pros
No glyphosate
Safer for children
Should not harm grass
Cons
Will need some kind of a sprayer to apply
5. Bonide Weed Killer
Bonide Weed Killer
CONTROLS WEEDS AND DISEASE - Weed Beater Fe spray is used to control dandelions, moss, algae, lichens, chickweed, oxalis, clover, ground ivy and more. It also suppresses diseases such as dollar spot, rust, snow mold plus many more.
QUICK RESULTS - Injury to weeds can be noticed within hours of application. Treated weeds, moss or algae will turn brown or black.
SAFE FOR GRASS - Designed to kill a variety of weeds and diseases, not lawn grasses. When used as directed it kills a variety of weeds in lawns.
The Bonide 323 Weed Killer is a great choice for getting rid of things like dandelions, moss, chickweed, and clover. The Bonide is known for being fast-acting and safe to use on your surrounding turf as well. One of the best things about the Bonide is that it is derived from iron, making it a bit safer than some of the other weed killers on the market.
This particular product will need to be mixed with water and put into a sprayer. Although that does involve an extra step, you get more value out of something like this.
Pros
Good value for the price
Quickly kill dandelions
Main ingredient is iron
Cons
Needs to be mixed and put into a sprayer
6. Spectracide Lawn Weed Killer, Ready-to-Use, LAWNGARD
No products found.
The Spectracide HG looks like something that you may see in a science fiction movie. The container's top has a unique orange attachment that will clip on to the end of your hose. You will not have to do anything other than attach it to your hose and spray it across your lawn.
Spectracide claims that their weed killer can take care of over 470 types of weeks. Chances are, if you have over 470 types of weeds in your lawn, you have some bigger problems! We encourage you to make sure that you let this dandelion killer work for about three hours before a rainfall. If it rains after an hour or so, it may not get rid of dandelions.
Pros
Very easy to attach to the hose
Won't hurt the lawn
Takes care of a wide range of broadleaf weeds
Cons
Needs three hours to dry and work before a rainfall
7. Roundup for Lawns 6 Ready-To-Spray (Southern)
Roundup for Lawns 6 Ready-To-Spray
For use on Southern grasses including Floratam and Centipede
Kills weeds, not the lawn
Kills dollarweed, dandelion, clover and yellow nutsedge
Kills 93 types of weeds
One of the great things about this Roundup for Lawns spray is that it is made specifically for Southern Lawns. Many Southern Lawns are going to be St.Augustine or Bermuda grass. Many of the weed killers on the market can not be used on these types of lawns. If you have dandelions and you live in the south, check out this Roundup for Lawns.
The convenient bottle is easy to use, allows you to apply in a matter of a few seconds, and is quite fast-acting. If you find that the round-up dandelion killers work well for your lawn, they are available in several different containers for you to use.
Pros
Easy to apply
One of the faster-acting broadleaf weeds killers
Works on Southern grasses
Cons
Some worry about long term effects of RoundUp on lawns
8. GreenView Weed & Feed
GreenView Weed & Feed
Granular lawn care product that kills over 250 weeds as listed on the label
Time-released nitrogen for extended feeding for up to 8 weeks
Promotes quick green up; will not burn lawn
Restores nutrients to the soil and helps lawn retain water to protect against heat and drought
27-0-4 NPK Formulation, no phosphates - helps protect our waterways
As you can see, there is a mix of different ways to kill dandelions. Some include a spot treatment, others a spray, and still others are a granular type of weel killer. The GreenView is what is called a weed and feed product. The weed and feed will kill the weeds and feed the turf that it is applied to.
With the Greenview, you will notice that you can cover a vast area for a very fair price. Since this product contains time-released Nitrogen, you will have protection from broadleaf weeds for up to eight weeks.
Pros
Good value for the coverage
Lasts for a long time
Restores nutrients to the soil
Cons
Gardeners must note this Cannot be used on St.Augustine Grass
9. Bio Advanced Selective Herbicide
Bioadvanced Selective Herbicide
2-IN-1 FORMULA: Kills existing lawn weeds and prevents listed weeds from emerging
6 MONTH PROTECTION: Proprietary 2-in-1 formula kills and prevents weeds for up to 6 months
WEED KILLER: Kills weeds including Dandelion, Dollarweed, and Clover
RAINPROOF PROTECTION: Rainproof in 1 hour
Anytime you see a selective herbicide product, you should know that it means that it will kill some plants and not others. When you are considering lawn care and flower beds or your garden, it is important to know that what you are spraying is not going to kill your other plants. Chemicals can help you keep your lawn in great shape, but they can also completely kill your lawn.
The Bio advanced selective herbicide can do wonders to help keep your yard in great shape. You will attach this bottle to your hose and use it to spray large areas of turf. The great thing about the Bio advanced is that it works as a weed preventer as well.
Pros
Selective herbicide
Easy to use the hose attachment
Great solution for weed killing and prevention
Cons
10. 30% Pure Vinegar
No products found.
As a perfect segway into our next section of more natural herbicides that you can use to treat weeds, we have the Home&Garden 30% Vinegar solution. Vinegar can work as a great natural way to keep your lawn and garden weed-free. Vinegar is a powerful product that can do wonders when it comes to cleaning and restoring as well.
The great thing about this product is that once you are finished treating the weeds, you can use this vinegar solution in your home. A few things to be aware of is that vinegar will kill your grass as well. Make sure that if you are using this method, you apply it only to the dandelion flower and roots and not to your grass. Do not do a large spray of your yard with a 30% vinegar solution.
Pros
Not harmful to the soil
Will work quickly and as a weed preventer
Can be sprayed directly on the plant
Cons
Can harm the lawn in the surrounding area
What Is Dandelion?
A dandelion is a yellow flowering plant that likes to spread across your lawn. The official name of a dandelion is a Taraxacum Officinale. You can find dandelions worldwide, and they are a fast-growing plant with a fairly wide root.
Dandelions will pop up not just on lawns but also along sidewalks and along the side of the road as well. Dandelions are edible as long as you know the proper method to prepare them and you have information as to how they were grown.
Types of Dandelion
Although a standard yellow flower dandelion is the plant that we are all accustomed to seeing, it is not the only dandelion flower that exists. There are several types of dandelions, and knowing how to identify them can be helpful when it comes to the elimination of the weed.
Common Dandelion
The dandelion you are likely very familiar with. These are edible, can be difficult to control, and they are also invasive.
Red Seeded Dandelion
You will notice the red seeded dandelion has a reddish color stem.
Russian Dandelion
The Russian Dandelion looks quite a bit like a typical dandelion; however, it will have much thicker leaves. You will also notice that the stem of the plants is a bit more rubbery in texture.
Japanese white dandelion
The Japanese dandelion will be found in Japan, and it is not going to spread nearly as quickly as the common dandelion. If you find you have these in your yard, you may not need as aggressive of a weed killer.
California Dandelion
It takes a true gardener and plant expert to tell the California dandelion apart from the common dandelion. There will, however, be some slight differences in the shade of green of the leaves and the flowers.
Pink Dandelion
Instead of having yellow flowers, there will be pink flowers with a yellow center. Make sure that you don't confuse this dandelion with other pink flowers that may look similar.
Are Dandelions Weeds?
Dandelions are considered weeds to some people because they grow through a lawn and cause your lawn to look imperfect. However, the dandelion itself is a yellow flowering plant with seeds that spread quickly and aggressively. It is not, however, simply just a weed.
Why Are Dandelions Bad?
Dandelions are not necessarily bad. When a few dandelions grow in your yard, they will help loosen up the soil and allow other nutrients to enter the soil. This can actually help your turf or your garden. However, the problem with dandelions is that they spread rather quickly, resulting in you having a mess on your hands.
Therefore if you see a few dandelions make their way into your yard, it is certainly not a time to panic. However, stopping the spread before dandelion seeds start to make their way around your yard is probably a good idea.
Things to Consider When Buying Dandelion Killer
When you purchase a dandelion killer, there are a few things that you will have to take into consideration. Not all herbicides and chemicals are the same, and having the proper information when you purchase can help save your lawn and save you a lot of time.
Natural vs. Chemical
As you can see from our list of dandelion killers, some will be made with harmful chemicals, and others will be more natural. A vinegar type weed killer will be a more organic weed killer, but some find that it is not strong enough to handle their dandelion issues.
Chemical type products tend to act faster and get the job done. Many commercial companies use these types of chemicals because they want a customer's lawn to be looking great again the next morning. If you are not in that big of a hurry and you are worried about the chemicals, go with something more natural.
Application
When buying dandelion killers, make sure you understand how they are applied. Some models come with their own spray bottle, others will require you to attach a hose, and another kind may require you to use a fertilizer or seed spreader. Make sure that you have the supplies necessary to apply the dandelion killer.
Selective
Many dandelion killers are designed to kill lots of other weeds as well. This can be a great benefit, but it can also be negative. Homeowners need to make sure that the dandelion killer they choose will not interact with their turf.
Time
Some dandelion killers will react with the plant and the roots in about an hour, and others will take more like 24 hours. Some herbicides will keep the ground dandelion free for months, and others will just work to treat the one plant. Pay attention to the times that the products claim to be effective for so that you know you are getting something you need.
How to Get Rid of Dandelions Naturally
Maybe you don't want to eat dandelions.
Maybe you don't want them in your garden either. In that case, there are some natural ways in which you can eliminate them without the use of harmful chemicals that can disrupt the surrounding soil, pollute the water, and harm your pets.
Here are some easy remedies you can try by using ingredients you already have in your home.
Use Boiling Water to Kill Dandelions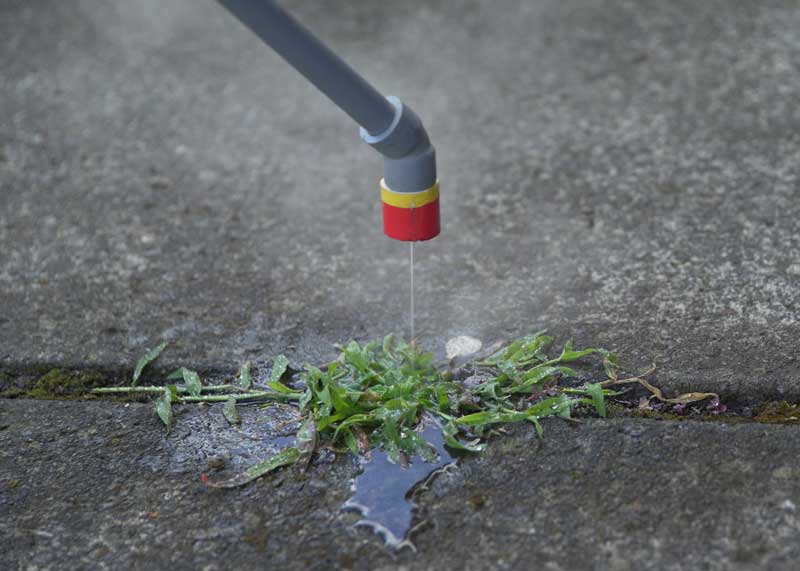 It might sound too simple, but boiling water really works to eliminate dandelions.
All you have to do is boil water in a kettle and then pour the water directly onto the dandelion leaves.
You want to ensure that water also gets into the roots. After a few hours, you'll be amazed to see that the dandelion's leaves have turned brown, as SF Gate reports. When this happens, you can pull them out of the soil. Easy, huh?
Apply Rubbing Alcohol
Rubbing alcohol has a wide variety of uses around the home as it's hailed for its cleaning benefits, but it can also be used to kill dandelions effectively.
All you need to do is mix two tablespoons of alcohol with one quart of water, as SF Gate reports. Simply pour this solution into a clean spray bottle and then spray it over the dandelion's leaves. You will likely see that the leaves start to die within a few hours.
Use Lemon and Vinegar
Lemon has great drying-out properties while vinegar is acidic, so combining them creates a powerful solution to kill your dandelions.
Mix ¼ cup of lemon juice with one quart of vinegar. You can also add some liquid dish soap to ensure that the solution can better stick onto the dandelions' leaves.
Just one tablespoon of dish soap will do the trick. Put the mixture into a spray bottle and spray it liberally all over the dandelion. It should work within a few hours, but if not, you can safely apply it to the weeds again.
Use Salt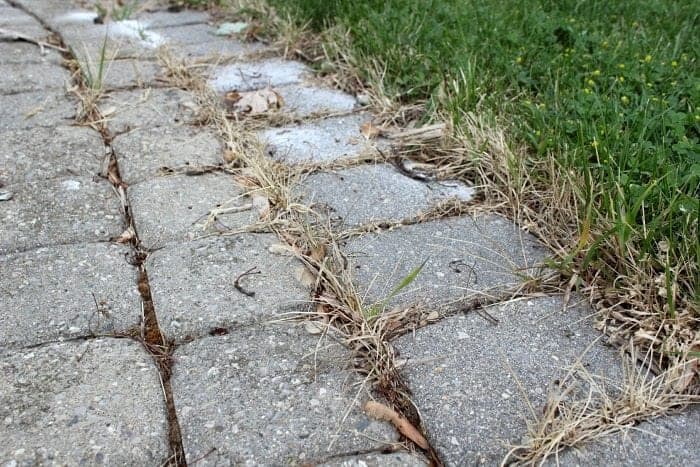 Salt is an effective and cheap weed killer because it dehydrates the plants and can mess up their internal water balance, as Gardening Known How reports.
You can easily use it to kill dandelions, and rock or table salt will work nicely. Instead of applying the salt to the plants directly; however, as this can get onto the surrounding soil, you should mix the salt with some water to dilute it a bit.
Mix water and salt according to a ratio of 3:1, and then use a funnel to direct it over the dandelions. Be careful not to get the solution on nearby plants or grass.
It's probably a good idea to water the nearby plants after you've applied the salt to the weeds just in case some of the salty solutions got onto them.
Hand Pull Dandelions
As we have mentioned several times, it can make sense to pull dandelions out by hand. You will need to ensure that you get the taproots as well as the flower. The best way to do this is to use a small shovel to help you dig around the root and release them. If you just pull out, you may snap the flower or the stem and leave dandelion seeds and roots all over the place.
How to Kill Dandelions with Chemicals
Pre Emergent
A pre-emergent is a chemical designed to make sure that dandelion seeds cannot grow into a full plant. A pre-emergent is one of the best choices to put on the ground after removing some of the dandelion plants.
Selective Herbicides
Selective herbicides are those that will kill some plants and not others. For instance, a selective herbicide may kill your dandelions and your clover but leave your grass alive. Selective herbicides are usually one of the easiest ways to kill dandelions; however, it is important to make sure you will not kill nearby plants.
Non Selective Herbicides
A non-selective herbicide is something that is going to kill all plant material. This is an option that you could use if you have plants growing through your sidewalks or pavers.
However, it is important to remember that the non-selective herbicide will kill anything it comes into contact with. If you spray this on your dandelions that are in your turf, you will kill all surrounding turf. It also takes a while for the soil to be healthy and effective for growing again after being treated with a non-selective herbicide.
When to Apply Dandelion Flower Killer
It is important to make sure that you are applying dandelion flower killer at the proper times. If you use herbicides or even natural remedies, certain conditions will make them more effective. The most important thing to consider is water.
If your dandelion plant is wet and you spray the leaves with a herbicide, chances are it will run off the leaves and into the general area. However, it will probably not attack the plant enough to kill it. You will want to make sure that your dandelion plant and the turf is dry. Also, check the forecast before you apply any chemicals.
You should have at least an hour, sometimes more like three hours after the product has been applied before any rain or waterfalls on the plant. The rain or water will wash away any herbicide that was sprayed and leave you with the same problem and some wasted chemical.
How to Apply Dandelion Weed Killer
When most homeowners or gardeners try to kill dandelions, they simply spray the herbicide or week killer on the dandelion. Although this can sometimes be effective, if you are looking to really remove this problem from your lawn, you will need to follow some specific steps.
The best thing you can do is to dig up the dandelion plant using a small shovel. Then you will treat the area where the taproot is with an herbicide. Once you have treated this area, you can then use a pre emergent herbicide to ensure the entire taproot has been treated and will not grow back.
If you use these dandelion products to treat the plant's flower, you may not have done enough to remove them from your yard completely.
Dandelion Killer FAQs
What Is the Best Dandelion Killer for Lawns?
The ten best dandelion killers that we gave you should do the trick of getting your dandelions to inhabit a new location. As most gardeners and homeowners will come to realize, the best way to remove weeds is to remove them by hand and remove them completely. If you want to use the herbicide to handle your dandelions, we recommend strong and fast-acting. The faster-acting herbicides have less of a chance of being washed away in the rain.
What Kills Weeds Permanently?
If you want to remove weeds permanently, you can use a vinegar and salt mixture. By mixing vinegar with salt and then spraying it on your weeds with a pump sprayer, you will have a powerful mix. This mix is natural and not harmful to humans, but it will work to keep weeds away.
What Kills Grass and Weeds Permanently?
The vinegar and salt mixture that we recommend also works on the grass. This can be a great addition to your landscaping regime if you have weeds or grass growing in areas where they shouldn't be. Many people struggle with weeds that are growing on sidewalks or along the edges of driveways. This mixture will not harm soil, but it will keep anything green from growing or new taproots from being established in the area.
Do Dandelion Killers Work?
Most dandelion killers work if they are applied properly. If you are using a blanket type broadleaf weed spray, you must make sure you mix the products properly and apply them according to the directions given. Dandelion killers are not effective if they are mixed with too much water. They are also not effective if you experience rain soon after applying. Although you may want to try these easy sprays at first, you may end up having to pull the plants and the roots out completely. 
How Long Does It Take for Weed Killer to Work?
Weedkiller will work at different rates depending on the type of weed killer purchased. If you use something very strong, it can start to attack the plants in less than an hour. For the most part, you will see results the day after applying the herbicide to the plant. Usually, the plant will be a bit weepy the following day, and you will know that it has been impacted by the products that were applied.
Are Dandelions Bad for Dogs?
Luckily dandelions are safe for dogs, cats, and people. In fact, consuming a few dandelions can actually be quite healthy. The most important fact to look out for when consuming dandelions is how they were treated before you decided to eat one. If you treat your dandelions with an herbicide, don't let the dog run out in the yard until it is safe to do so. It's not a problem for the dog to eat a natural dandelion; however, one coated in chemicals is a bad idea.
Summing It up: How to Kill Dandelions
By now, you should know more than you ever thought possible about dandelions, their taproots, and the herbicides and chemicals that can be used to take care of them. Whatever your reason is to remove dandelions from your yard, make sure that you always keep kids and pets safe. Although these dandelion killers can be very effective it is best to follow directions and safety precautions when you use them.
Last Updated on August 17, 2022 by Gustaf Johansson